01.12.2012 | Research | Ausgabe 1/2012 Open Access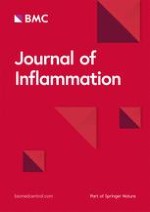 Elevated expression of the toll like receptors 2 and 4 in obese individuals: its significance for obesity-induced inflammation
Zeitschrift:
Autoren:

Rasheed Ahmad, Anfal Al-Mass, Valerie Atizado, Asma Al-Hubail, Fahad Al-Ghimlas, Monira Al-Arouj, Abdullah Bennakhi, Said Dermime, Kazem Behbehani
Wichtige Hinweise
Electronic supplementary material
The online version of this article (doi:
10.​1186/​1476-9255-9-48
) contains supplementary material, which is available to authorized users.
Competing interests
The authors declare that they have no competing interests.
Authors' contributions
RA conceived, designed the experiments, analyzed the data, wrote and edited the manuscript. AA performed most part of the experiments and analyzed the data. VA performed immunohistochemistry related experiments. AA carried out the biochemical profile of the study subject. FA recruited the study subjects and obtained clinical data of the subjects. MA and AB commented the article. SD coordinated the recruitment of the study subjects as an obesity research program coordinator/head. KB critically revised and commented the article. All authors read and approved the final version of the manuscript.
Abstract
Background
Expression profile of the toll like receptors (TLRs) on PBMCs is central to the regulation of proinflammatory markers. An imbalance in the TLRs expression may lead to several types of inflammatory disorders. Furthermore, the dynamic regulation of inflammatory activity and associated impaired production of cytokines by peripheral blood mononuclear cells (PBMCs) in obese individulas remain poorly understood. Therefore, we determined the perturbation in TLRs (TLR2 and TLR4), their adaptor proteins (MyD88, IRAK1 and TRAF6) expression in PBMCs/subcutaneous adipose tissue (AT) as well as inflammatory cytokines changes in obese individuals.
Methods
mRNA expression levels of TLR2, TLR4, IL-6, TNF-α and adaptor proteins were determined by RT-PCR. TLR2, TLR4 and adaptor proteins expression in AT was determined by immunohistochemistry.
Results
Obese and overweight individuals showed significantly increased expression of TLR2, TLR4 and MyD88 in both PBMCs and AT as compared with lean individuals (P < 0.05). Interestingly, we found a remarkably higher expression of TLRs in obese and overweight individuals with type 2 diabetes (P < 0.05). Increased expression of TLR2, TLR4, MyD88 and IRAK1 correlated with body mass index (BMI) (TLR2: r = 0.91; TLR4: r = 0.88, P <0.0001; MyD88: r = 0.95, P < 0.0001; IRAK1 r = 0.78, P < 0.002). TLRs' expression was also correlated with fasting blood glucose (FBG) (TLR2: r = 0.61, P < 0.002; TLR4: r = 0.52, P < 0.01) and glycated haemoglobin (HbA1c) ( TLR2: r = 0.44, P <0.03; TLR4: r = 0.48, P < 0.03). Transcript levels of IL-6 and TNF-α were highly elevated in obese subjects compared to lean subjects. There was a strong association of TLRs' expression in PBMCs with TNF-α (TLR2: r = 0.92; TLR4: r = 0.92; P < 0.0001) and IL-6 (TLR2: r = 0.91, P < 0.0001; TLR4: r = 0.81; P < 0.001). Similarly adaptor proteins were significantly correlated with TNF-α (MyD88: r = 0.9, P < 0.0001; IRAK1: r = 0.86; P < 0.0002) and IL-6 (MyD88: r = 0.91, P < 0.0001; IRAK1: 0.77; P < 0.002).
Conclusions
TLRs and adapter proteins were overexpressed in PBMCs from obese subjects, which correlated with increased expression of TNF-α and IL-6. This association may explain a potential pathophysiological link between obesity and inflammation leading to insulin resistance.