04.10.2015 | Original Article | Ausgabe 3/2016 Open Access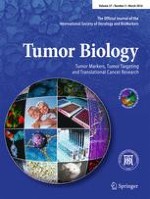 Elevated OCT1 participates in colon tumorigenesis and independently predicts poor prognoses of colorectal cancer patients
Zeitschrift:
Autoren:

Yu-peng Wang, Guo-he Song, Jian Chen, Chao Xiao, Chao Li, Lin Zhong, Xing Sun, Zhao-wen Wang, Gui-long Deng, Fu-dong Yu, Ying-ming Xue, Hua-mei Tang, Zhi-hai Peng, Xiao-liang Wang
Wichtige Hinweise
Yu-peng Wang, Guo-he Song and Jian Chen contributed equally to this work.
Abstract
Octamer transcription factor 1 (OCT1) was found to influence the genesis and progression of numerous cancers except for colorectal cancer (CRC). This study tried to explore the role of OCT1 in CRC and clarify the association between its expression and patients' clinical outcome. Transcriptional and post-transcriptional expression of OCT1 was detected in CRC cancerous tissues and paired normal mucosae by real-time PCR as well as immunohistochemistry. Moreover, the effect of OCT1 knockdown on CRC cell proliferation was investigated both in vitro and in vivo using Cell Counting Kit-8 assay, colony-forming assay, and mouse tumorigenicity assay. Expression of OCT1 was found to be elevated in CRC. Suppression of OCT1 significantly inhibited CRC cell proliferation both in vitro and in vivo. Furthermore, upregulated level of OCT1 was significantly associated with N stage, M stage, and American Joint Committee on Cancer (AJCC) stage (
P =
 0.027, 0.014, and 0.002, respectively) as well as differential degree (
P =
 0.022). By using multivariate Cox hazard model, OCT1 was also shown to be a factor independently predicting overall survival (OS;
P
 = 0.013, hazard ratio = 2.747, 95 % confidence interval 1.125 to 3.715) and disease-free survival (DFS;
P
 = 0.004, hazard ratio = 2.756, 95 % confidence interval 1.191 to 4.589) for CRC patients. Our data indicate that OCT1 carries weight in colorectal carcinogenesis and functions as a novel prognostic indicator and a promising target of anti-cancer therapy for CRC.