01.12.2012 | Original investigation | Ausgabe 1/2012 Open Access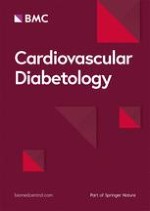 Elevated serum adipocyte fatty acid-binding protein concentrations are independently associated with renal dysfunction in patients with stable angina pectoris
Zeitschrift:
Autoren:

Mutsumi Iwamoto, Toru Miyoshi, Masayuki Doi, Ko Takeda, Masahito Kajiya, Kazumasa Nosaka, Rie Nakayama, Satoshi Hirohata, Shinichi Usui, Shozo Kusachi, Kosuke Sakane, Kazuhfumi Nakamura, Hiroshi Ito
Wichtige Hinweise
Electronic supplementary material
The online version of this article (doi:
10.​1186/​1475-2840-11-26
) contains supplementary material, which is available to authorized users.
Competing interests
The authors declare that they have no competing interests.
Authors' contributions
MI, TM, MD, KT, MK, KN, SK and RN conceived the study, participated in study design and coordination, and assisted with the preparation of this manuscript. SU conducted the immunoassays. SH, SK, KN, and HI assisted with the preparation or critical review of this manuscript. All authors read and approved the submitted manuscript.
Abstract
Background
Chronic kidney disease (CKD) is associated with cardiovascular events. Adipocyte fatty acid-binding protein (A-FABP) plays an important role in atherosclerosis. We investigated whether plasma A-FABP is involved in renal function in patients with stable angina pectoris.
Methods
A total of 221 patients with significant coronary artery stenosis were enrolled after coronary angiography. CKD was defined as an estimated glomerular filtration rate (eGFR) < 60 ml/min/1.73 m2. The severity of coronary stenosis was assessed using a modified Gensini score and coronary angiography. Serum A-FABP levels were determined by enzyme-linked immunosorbent assay.
Results
Serum A-FABP levels were significantly correlated with both eGFR (r = -0.41, p < 0.01) and the severity of coronary artery stenosis (r = 0.16, p = 0.02), and these relationships remained significant after adjusting for confounding factors. The prevalence of CKD and multi-vessel disease was significantly higher among patients with serum A-FABP levels above the median value of 20.3 ng/ml than among patients with serum A-FABP levels below the median value (57% vs. 27%, p < 0.01 and 64% vs. 48%, p = 0.02, respectively). Multivariate analysis revealed that the presence of three-vessel disease in comparison with single-vessel disease was independently associated with the higher A-FABP (per doubling) (odds ratio; 2.26, 95% confidential interval; 1.28-3.98, p < 0.01) and tended to be associated with the lower eGFR (p = 0.06).
Conclusion
Serum A-FABP may have a significant role in the interplay between renal dysfunction and coronary atherosclerosis.