27.03.2020 | Original Article | Ausgabe 5/2020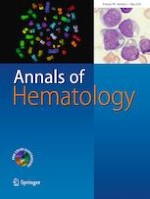 Elevated serum myoglobin levels at hospital admission and the risk of early death among patients with hemophagocytic lymphohistiocytosis: evidence from 155 pediatric patients
Zeitschrift:
Autoren:

Xun Li, Haipeng Yan, Xinping Zhang, Jiaotian Huang, Shi-Ting Xiang, Zhenya Yao, Ping Zang, Desheng Zhu, Zhenghui Xiao, Xiulan Lu
Wichtige Hinweise
Xun Li and Haipeng Yan contributed equally to this work.
Publisher's note
Springer Nature remains neutral with regard to jurisdictional claims in published maps and institutional affiliations.
Abstract
Patients with hemophagocytic lymphohistiocytosis (HLH) have high risk of early mortality. The purpose of this study was to test the hypothesis that the elevated level of serum myoglobin among patients with HLH is associated with disease severity and increased risk of mortality. We retrospectively investigated the serum myoglobin levels from 155 pediatric patients diagnosed with HLH in the Hunan Children's Hospital, China. The levels of myoglobin and creatine kinase at hospital admission among non-survivors and survivors were compared. The myoglobin level was dichotomized for the estimation of hazard ratio (HR) for mortality. Patients who died within 7 and 30 days of hospitalization had significantly higher myoglobin levels than did survivors (
p
 < 0.05). The myoglobin level was negatively associated with the days of survival among non-survivors (Spearman correlation coefficient = − 0.29,
p
 = 0.04). An elevated myoglobin level (> 90 ng/mL) was significantly associated with increased mortality (unadjusted HR = 2.66, 95%CI: 1.41, 5.00,
p
 = 0.0024) and persisted after adjusting for age, Epstein-Barr virus infection, admission department, acute kidney injury, myocardial damage, and shock. In conclusion, an elevated serum myoglobin level was associated with increased risk of early death among pediatric patients with HLH, suggesting the potential of myoglobin to be used as a reference indicator for monitoring and managing of HLH.