01.12.2017 | Research | Ausgabe 1/2017 Open Access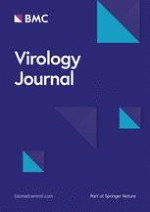 Emergence of mosaic recombinant strains potentially associated with vaccine JXA1-R and predominant circulating strains of porcine reproductive and respiratory syndrome virus in different provinces of China
Zeitschrift:
Autoren:

Huajian Zhao, Qinggong Han, Lei Zhang, Zhiyong Zhang, Yufeng Wu, Hong Shen, Ping Jiang
Wichtige Hinweise
Electronic supplementary material
The online version of this article (doi:
10.​1186/​s12985-017-0735-3
) contains supplementary material, which is available to authorized users.
Abbreviations
HP-PRRSV
Highly pathogenic porcine reproductive and respiratory syndrome virus
MLVs
Modified live-attenuated vaccines
PCR
Polymerase chain reaction
PRRS
Porcine reproductive and respiratory syndrome
PRRSV
Porcine reproductive and respiratory syndrome virus
RT-PCR
Reverse transcription polymerase chain reaction
Background
Porcine reproductive and respiratory syndrome (PRRS) is an economically critical swine disease worldwide that causes severe reproductive failure in sows, poor viability of piglets, and respiratory disease with secondary infection in growing pigs. The agent of PRRS, PRRS virus (PRRSV), belongs to the
Arterivirus
genus and has a single-stranded positive-sense RNA genome of approximately 15 kb, which is organized into nine overlapping open reading frames (ORFs) [
1
–
4
]: ORF1a, ORF1b, ORF2a, ORF2b, and ORFs 3–7. ORF1a and ORF1b, which comprise 80% of the genome, encode the viral nonstructural proteins involved in genome transcription and replication [
5
], whereas ORF2a, ORF2b, and ORFs 3–7 encode the viral structural proteins GP2, E, GP3, GP4, GP5, M, and N, respectively [
6
–
8
]. The two genotypes of PRRSV, the European type (Type 1) and North American type (Type 2), share only about 60% nucleotide similarities at the genomic level and are represented by Lelystad virus and VR-2332, respectively [
9
–
11
].
The North American type PRRSV has been a major viral genotype in China [
12
–
14
], but was not a major concern until 2006, when highly pathogenic PRRSV (HP-PRRSV), characterized by a 30-aa deletion in Nsp2, emerged [
15
]. Having evolved from a less-pathogenic variant in China, HP-PRRSV has widely spread and continues to cause high mortality and huge economic losses to the swine industry in China [
15
,
16
]. In a second major outbreak in China and other Southeast Asian countries in 2009 and 2010, the HP-PRRSV strain was later shown to be a recombinant between two Chinese PRRSV strains [
17
,
18
]. NADC30 was isolated in the US in 2008 and in China in 2013 [
19
]. Associated with the importation of NADC30-like strains or recombination events between NADC30-like and domestic strains in China, a third outbreak occurred from 2013 to 2015 [
19
–
21
].
Imported and domestic modified live-attenuated vaccines (MLVs) have been widely used to safeguard against PRRSVs since the outbreaks in China. However, evidence of the risk and inefficacy of MLVs to prevent the spread of the latest PRRSV strain has begun to accumulate [
21
–
24
]. In order to investigate the epidemiological and evolutionary characteristics of PRRSV in 2015, a total of 293 clinical samples were collected from pigs in 16 provinces in China and the full-length sequence of 28 PRRSV isolates were sequenced and analyzed.
Methods
Sample collection
A total of 293 clinical lung samples were collected from pigs from different swine herds that experienced high fever and reproductive and respiratory syndrome in 16 provinces of China in 2015. A portion of each sample was homogenized for RNA extraction and stored at −70 °C. Meanwhile, the clinical symptoms, morbidity, mortality, and changes in autopsy tissues of pigs were examined.
RNA extraction and reverse transcriptase polymerase chain reaction (RT-PCR)
Total RNA was extracted from tissue homogenates using TRIzol reagent (Life Technologies, New York, NY, USA). cDNA was constructed from 7 μL of RNA using M-MLV reverse transcriptase (Promega, Madison, WI, USA). Two microliters of cDNA was used as a template for subsequent PCR analysis. Specific PRRSV nucleotide sequences of 143 bp were amplified with the primers 5′-AGC TGT GCC ARA TGY TGG-3′ and 5′-GGT RAA GTG ATG YCT GAC-3′ targeting ORF7. The cycling conditions were 95 °C for 1 min, followed by 35 cycles at 95 °C for 30 s, 56 °C for 30 s, 72 °C for 30 s, and a final extension at 72 °C for 2 min.
Immunohistochemical (IHC) analysis
The presence of PRRSV antigens in lung tissues was examined by IHC analysis. Briefly, the lung tissues were fixed in 10% neutral buffered formalin for 48 h, sectioned, and stained with monoclonal antibodies specific for the N protein of PRRSV for detection of antigen-positive cells, as previously described [
25
].
Full-length sequencing of PRRSV
The 28 PRRSV infected samples (Table
1
) were chosen for further whole genome sequencing. Viral RNA purification from lung tissues and cDNA synthesis were performed as described previously [
26
], and PCR amplification of 14 fragments covering the PRRSV genome was performed with primers described in a previous report with minor modifications [
27
] (Additional file
1
: Table S1). The quality of the PCR products was confirmed by electrophoresis on a 1% agarose gel and then purified using the PureLink Quick Gel Extraction Kit (Life Technologies). Then, the PCR products were quantified, cloned into the pMD18-T vector (Takara Bio, Inc., Shiga, Japan), and sequenced with an automated genome sequencer (Genetic Analyzer 3730XL; Applied Biosystems, Foster City, CA, USA).
Table 1
Information of the 28 PRRSV isolates in China
No.

Isolate

Province

Accession no.

Clinical background

Herd size(sows)

Vaccination history of MLV

Morbidity (%)

Mortality (%)

1

15GD1

Guangdong

KX815407

40.2

21.4

700

No

2

15GD2

Guangdong

KX815408

63.6

62.9

3000

JXA1-R,TJM-F92

3

15GD3

Guangdong

KX815409

4

15GD4

Guangdong

KX815410

41.6

7.2

2400

No

5

15HEB1

HeBei

KX815411

80.8

86.5

1400

No

6

15HEB3

HeBei

KX815412

62.7

53.4

450

JXA1-R

7

15HEN1

Henan

KX815413

71.7

72.5

1000

No

8

15HEN3

Henan

KX815414

29.6

3.4

1300

No

9

15HEN4

Henan

KX815415

33.2

7.6

420

No

10

15HUN1

Hunan

KX815416

65.4

54.1

3400

No

11

15HUN2

Hunan

KX815417

12

15HUN3

Hunan

KX815418

23

61.4

200

R98

13

15JX1

Jiangxi

KX815419

80

48.8

700

No

14

15JX2

Jiangxi

KX815420

67.4

26.6

390

No

15

15JX3

Jiangxi

KX815421

2.9

2.2

400

No

16

15JX4

Jiangxi

KX815422

12.3

54.9

1500

RespPRRS

17

15LN1

Liaoning

KX815423

51.1

23.8

320

No

18

15LN2

Liaoning

KX815424

35.4

2.3

250

No

19

15LN3

Liaoning

KX815425

94.7

87.1

600

No

20

15SC1

Sichuan

KX815426

12.9

56.2

500

JXA1-R

21

15SC2

Sichuan

KX815427

33.8

4.8

800

No

22

15SC3

Sichuan

KX815428

75

90.8

1500

No

23

15SN1

Shaanxi

KX815429

50.6

31.6

350

TJM-F92

24

15SN2

Shaanxi

KX815430

25

15SN3

Shaanxi

KX815431

26

15ZJ1

Zhejiang

KX815432

28.4

16

660

CH-1R

27

15ZJ2

Zhejiang

KX815433

65

35.9

1400

JXA1-R

28

15ZJ3

Zhejiang

KX815434

57.6

32.3

570

No
Phylogenetic analysis
A total of 651 genomic sequences, which included 28 sequences from the present study and all available sequences of type 2 PRRSVs (
n
 = 623) retrieved from the GenBank database in March 2017 (
https://​www.​ncbi.​nlm.​nih.​gov/​genbank/​
) were aligned using the MUSCLE multiple alignment program (v3.8.31) [
28
] under default settings with minor manual adjustments afterward. Phylogenetic trees were constructed using the neighbor-joining algorithm with the Kimura 2-parameter substitution model and bootstrap tests of 1000 replicates using the MEGA6 sequence alignment tool [
29
]. Interactive tree of life (
http://​itol.​embl.​de
) [
30
] was employed to display and annotate the phylogenetic trees. The genetic distances of intra- and inter- clusters were computed using MEGA 6 with Kimura 2-parameter model and 1000 bootstrap replicates. Sub-data sets with a diversity level of >10% were further divided into smaller monophyletic clusters and sublineages within lineages were identified with a cut off of 1.4%.
Recombination analyses
To accurately identify potential recombinants, sequences of the 28 strains identified in this study were combined with up to 623 isolate sequences for recombination screening. Recombination events were only considered significant when supported by at least three of the following five methods: RDP [
31
], GENECONV [
32
], MAXCHI [
33
], CHIMAERA [
34
], and 3SEQ [
35
] implemented in RDP v4.16 [
36
]. In order to check the recombination signals and estimate the breakpoint locations, sequences of potential recombinants isolated in this study or similar sequences of the parental lineage and those retrieved from the GenBank database were chosen for similarity plot analysis implemented in SIMPLOT v3.5.1 [
37
], with a window of 500 bp and step size of 10 bp. Furthermore, recombination events were confirmed with a neighbor-joining phylogenetic tree.
Only the strains that fit all of the following three criteria, as modified from a previous report [
23
], were recognized as JXA1-R (JXA1 P80)-like strains: (1) nested in the phylogenetic tree within the same cluster as the vaccine strain JXA1-R, (2) sharing the highest sequence identity with the JXA1-R strain (>99%), and (3) presenting amino acids (aa) unique to JXA1-R strain derivatives.
Results
Discussion
Conclusion
The findings of this study demonstrated that HP-PRRSV vaccine like strains (JXA1-R-like strains) are widely circulated in China and mosaic recombinant strains associated with the vaccine strains and predominant circulating strains of PRRSV emerged in different provinces of China under current vaccination pressure. PRRSV eradication and control is a pressing situation in China.
Acknowledgements
This work was mainly supported by the National Natural Science Foundation (31230071,31672565), a grant from the Ministry of Agriculture (CARS-36) for development of techniques to control swine diseases, and the priority academic program development of Jiangsu higher education institutions (PAPD).
Authors' contributions
HZ and PJ designed the study. HZ, QH, LZ, and ZZ performed the experiments. HZ, QH, HS, YW, and PJ analyzed the data. HZ and PJ wrote the manuscript. All authors have read and approved the submitted manuscript.
Competing interests
The authors declare that they have no competing interests.
Ethics approval
All animal protocols were approved by the Animal Care and Ethics Committee of Nanjing Agricultural University (permit number: IACECNAU 20121001) and followed the Guiding Principles for Biomedical Research Involving Animals.
Publisher's Note
Springer Nature remains neutral with regard to jurisdictional claims in published maps and institutional affiliations.
Open Access
This article is distributed under the terms of the Creative Commons Attribution 4.0 International License (
http://​creativecommons.​org/​licenses/​by/​4.​0/​
), which permits unrestricted use, distribution, and reproduction in any medium, provided you give appropriate credit to the original author(s) and the source, provide a link to the Creative Commons license, and indicate if changes were made. The Creative Commons Public Domain Dedication waiver (
http://​creativecommons.​org/​publicdomain/​zero/​1.​0/​
) applies to the data made available in this article, unless otherwise stated.