29.05.2017 | Original Article | Ausgabe 10/2017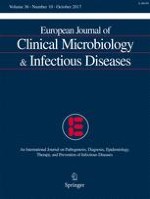 Emerging multidrug-resistant Bengal Bay clone ST772-MRSA-V in Norway: molecular epidemiology 2004–2014
Autoren:

A. Blomfeldt, K. W. Larssen, A. Moghen, C. Gabrielsen, P. Elstrøm, H. V. Aamot, S. B. Jørgensen
Abstract
A multidrug-resistant, methicillin-resistant
Staphylococcus aureus
(MRSA) clone, PVL-positive ST772-MRSA-V, named the Bengal Bay clone, is emerging worldwide. In Norway, where MRSA prevalence is low, a sudden increase in ST772-MRSA-V initiated a nationwide molecular epidemiological study. Clinical data were obtained from the Norwegian Surveillance System for Communicable Diseases (MSIS).
S. aureus
isolates were characterised by antibiotic susceptibility profiles and comprehensive genotyping (
spa
typing, MLVA, DNA microarray). ST772-MRSA was detected in 145 individuals during 2004–2014, with 60% of cases occurring in 2013–2014. Median age was 31 years and male/female ratio 1.16. The majority had a family background from the Indian subcontinent (70%). MRSA acquisition was mainly reported as unknown (39%) or abroad (42%), the latter associated with a home-country visit (59%), tourism (16%), and immigration (13%). Clinical infection was present in 75%, predominantly by SSTI (83%), 18% were admitted to hospital and 42% were linked to small-scale outbreaks (
n
= 25). All isolates were multidrug-resistant. Most isolates were resistant to erythromycin, gentamicin and norfloxacin. Genotyping revealed a conserved clone predominated by
spa
type t657 (83%), MLVA-type 432 (67%) and the genes
lukF/S
,
sea
,
sec/sel
,
egc
,
scn
,
cna
,
ccrAA/ccrC
,
agrII
and
cap5
. A few untypical
ccr
gene combinations were detected. Bengal Bay isolates have likely been imported on several occasions and revision of infection control guidelines may prevent further spread.