01.12.2018 | Research article | Ausgabe 1/2018 Open Access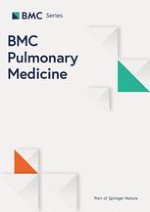 Emphysematous change with scleroderma-associated interstitial lung disease: the potential contribution of vasculopathy?
Zeitschrift:
Autoren:

Hideaki Yamakawa, Tamiko Takemura, Tae Iwasawa, Yumie Yamanaka, Satoshi Ikeda, Akimasa Sekine, Hideya Kitamura, Tomohisa Baba, Shinichiro Iso, Koji Okudela, Kazuyoshi Kuwano, Takashi Ogura
Abstract
Background
Pulmonary emphysema combined with systemic sclerosis (SSc)-associated interstitial lung disease (ILD) occurs more often in smokers but also in never-smokers. This study aimed to describe a new finding characterized by peculiar emphysematous change with SSc-associated ILD (SSc-ILD).
Methods
We conducted a retrospective review of 21 consecutive patients with SSc-ILD diagnosed by surgical lung biopsy and focused on the radio-pathological correlation of the emphysematous change.
Results
Pathological pulmonary emphysema (p-PE) with SSc-ILD was the predominant complication in 16 patients (76.2%) with/without a smoking history, of whom 62.5% were never-smokers. A low attenuation area (LAA) within interstitial abnormality on high-resolution computed tomography (HRCT) was present in 31.3%. Diffusing capacity of the lung for carbon monoxide (DLCO) was lower, disease extent on HRCT higher, and intimal/medial thickening in muscular pulmonary arteries more common in the patients with p-PE with SSc-ILD. However, forced vital capacity (FVC) was well preserved regardless of whether p-PE was observed. Most SSc-ILD patients had pulmonary microvasculature changes in arterioles (90.5%), venules (85.7%), and interlobular veins (81.0%).
Conclusions
Pulmonary emphysematous changes (LAA within interstitial abnormalities on HRCT and destruction of fibrously thickened alveolar walls) are specific and novel radio-pathological features of SSc-ILD. Peripheral vasculopathy may help to destroy the fibrously thickened alveolar walls, resulting in emphysematous change in SSc-ILD.