01.12.2017 | Review | Ausgabe 1/2017 Open Access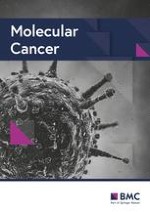 EMT and stemness: flexible processes tuned by alternative splicing in development and cancer progression
Zeitschrift:
Autoren:

Davide Pradella, Chiara Naro, Claudio Sette, Claudia Ghigna
Abbreviations
AS-NMD
Alternative splicing - non-sense mediate decay
EMT
Epithelial-to-mesenchymal transition
iPSCs
Induced Pluripotent Stem Cells
MET
Mesenchymal-epithelial transition
Background
In this review, we offer a brief overview of EMT programs in development, stem cell biology and cancer progression. Subsequently, we assess the contribution of AS in EMT, describing interesting examples of both splicing factors and target genes, and presenting AS profiles that contribute to the dynamic transitional states between the epithelial and mesenchymal phenotypes in cancer. We also focus on the impact of AS regulation in cellular features that are directly related to the oncogenic potential of CSCs and provide examples of AS variants involved in acquisition and maintenance of stem cell-like features.
Main text
Conclusions
Epithelial and mesenchymal cells, as well as pluripotent and differentiated cells, represent extreme edges of tightly regulated processes: EMT and stem cell differentiation, respectively. In cancers, EMT is linked to metastasis formation as well as CSC generation and maintenance. Tumor populations are highly heterogeneous. Indeed, not all cancer cells are able to undergo EMT at the same time and not all cells that have activated an EMT program become competent to form metastasis. Tumor heterogeneity is further increased by the existence of epithelial/mesenchymal hybrids in highly metastatic CTCs and CSCs. Together these findings strongly suggest the importance of cellular plasticity for the acquisition of both invasive capabilities and stemness traits.
High-throughput approaches have recently documented remarkable changes in AS profiles of specific genes during activation of EMT programs and CSC generation. Frequently, such alterations are caused by changes in the expression levels of
trans
-acting factors. These analyses point out that AS provides an additional and extremely flexible layer of regulation to rapidly control temporal and spatial expression of protein isoforms, thus shaping cell- and tissue-identity. Importantly, AS variants orchestrate several important aspects of the EMT process, including cell-cell contacts, polarity and cytoskeleton organization, and CSC self-renewal and differentiation. Moreover, the pivotal role of AS regulation in tumor plasticity is underscored by the observation that this mechanism rapidly shifts the expression of protein isoforms with opposite functions. Finally, the recent optimization of antisense oligonucleotides-based approaches to selectively control splicing switches [
244
–
246
] suggests that AS variants specifically expressed during tumor EMT and in CSCs could represent valuable diagnostic or therapeutic options for anti-cancer purposes in the near future. However, although an enormous work in the field has already been done, the examples that we have discussed likely represent just the tip of the iceberg, and much more remains to be uncovered in order to draw a more realistic picture. Thus, future studies are warranted to fully elucidate the real contribution of AS regulation to cancer progression.
Acknowledgements
N/A.
Funding
This work was supported by grant from the Associazione Italiana per la Ricerca sul Cancro (AIRC; IG17395) to CG and grants from Telethon (GGP 12189; GGP 14095), Associazione Italiana per la Ricerca sul (AIRC; IG14581), Ministry of Health "Ricerca Corrente" to CS and "5×1000 Anno 2014" to Fondazione Santa Lucia.
Availability of data and materials
N/A.
Authors' contributions
DP and CN were major contributors in writing this review and they wrote the initial draft of the manuscript, whereas CS and GC revised, expanded and suggested changes to the original version of the manuscript. All authors have seen and approved the final manuscript.
Competing interests
The authors declare that they have no competing interests.
Consent for publication
N/A.
Ethics approval and consent to participate
N/A.
Open Access
This article is distributed under the terms of the Creative Commons Attribution 4.0 International License (
http://​creativecommons.​org/​licenses/​by/​4.​0/​
), which permits unrestricted use, distribution, and reproduction in any medium, provided you give appropriate credit to the original author(s) and the source, provide a link to the Creative Commons license, and indicate if changes were made. The Creative Commons Public Domain Dedication waiver (
http://​creativecommons.​org/​publicdomain/​zero/​1.​0/​
) applies to the data made available in this article, unless otherwise stated.