01.12.2015 | Research article | Ausgabe 1/2015 Open Access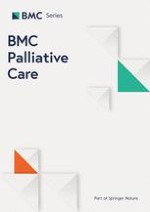 End-of-life care research with bereaved informal caregivers – analysis of recruitment strategy and participation rate from a multi-centre validation study
Zeitschrift:
Autoren:

Stephanie Stiel, Maria Heckel, Sonja Bussmann, Martin Weber, Christoph Ostgathe
Wichtige Hinweise
Competing interests
The authors declare that they have no competing interests.
Authors' contribution
SS: concept and design, data analysis and interpretation, manuscript writing. MH: data analysis and interpretation, manuscript writing. SB: data analysis, final approval of manuscript. MW: data interpretation, final approval of manuscript. CO: concept and design, data interpretation, final approval of manuscript. All authors read and approved the final manuscript.
Abstract
Background
One essential element of research is the successful recruitment of participants. However, concerns are obvious regarding the ethical implications of involving terminally ill and even dying patients and their informal caregivers as research participants. This study aims to illustrate central issues encountered when recruiting bereaved informal caregivers for a questionnaire validation study on the quality of dying and death.
Methods
Between July 2012 and November 2013, informal caregivers of deceased inpatients who were treated at two palliative care units in Germany were invited to participate in a questionnaire validation study. Informal caregivers were called by a trained researcher at the end of the fourth week after death at the earliest and by the sixteenth week after death at the latest and asked to participate in a face-to-face interview in their private home.
Results
The overall participation rate of all eligible informal caregivers was 76.1% (226/297). The mean burden score was 2.5 (NRS from 0 = no burden to 10 = maximum burden; n = 221). Higher burden scores (≥4) were associated with emotional and burdensome memories (n = 34) being invoked throughout the interview. Severe or maximum burden scores (≥7) were stated by 13.2% of participants. The average time between the associated patient's death and the informal caregiver's interview was 57.3 days (range 26–176 days, median 49.5 days). 5.3% of all 226 interviews were not completed due to different reasons. Participants' comments on the way in which the study was conducted gave insight into their motivation to take part in the study and their evaluation of the interview situation.
Conclusions
The recruitment strategy can be recommended to other researchers developing research with bereaved carers. The burden caused by study participation was acceptable to the researchers carrying out this research, although a small group of participants experienced high levels of burden which should be anticipated and appropriate support services offered. Family caregivers are willing to support end-of-life care research, have different motivations for participation and even reported benefits from participation. Nevertheless, study designs have to take into account and ease the potential burden of interviews for caregivers experiencing grief.