01.12.2018 | Research | Ausgabe 1/2018 Open Access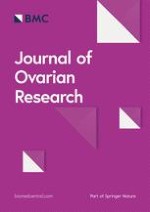 Endometriosis does not confer improved prognosis in ovarian clear cell carcinoma: a retrospective study at a single institute
Zeitschrift:
Autoren:

Ting Zhao, Yu Shao, Yan Liu, Xiao Wang, Luyao Guan, Yuan Lu
Wichtige Hinweise
Ting Zhao and Yu Shao contributed equally to this work.
Abbreviations
EAOCs
Endometriosis-associated ovarian tumors
EGFR
Epidermal growth-factor receptor
EOC
Epithelial ovarian carcinoma
FIGO
International Federation of Gynecology and Obstetrics
HGSC
High-grade serous carcinoma
HNF-1β
Hepatocyte nuclear factor 1β
MAPK
Mitogen-activated protein kinase kinase
NCCN
National Comprehensive Cancer Network
OCCC
Ovarian clear cell carcinoma
OEC
Ovarian endometrioid carcinoma
PFS
Progression-free survival
PI3K
Phosphatidylinositol 3'-kinase
Background
Methods
This was a retrospective study approved by the ethics committee of the OB/GYN Hospital of Fudan University. The inclusion criteria were: [
1
] patients who underwent primary surgery in the hospital between January 1995 and December 2014; [
2
] histological diagnosis of pure OCCC. The exclusion criteria were: [
1
] patients with mixed histological subtypes such as OCCC with high-grade serous carcinoma or endometrioid carcinoma; [
2
] patients with concurrent genital or extra-genital primary malignancy.
A total of 135 patients were diagnosed with ovarian clear cell carcinoma in the study period. All the patients received primary surgery in our institute and none of them had concurrent primary malignancies of other organs. Of these, there were 10 patients diagnosed with mixed types according to the pathological reports (Fig.
1
). Finally 125 patients were included in this study and were divided into two groups based on the presence or absence of endometriosis. OCCC with endometriosis was defined as endometriosis involving the same or the contralateral ovary or the pelvic peritoneum of the same patient. All the histological slides were independently reviewed by two pathologists.
×
A comprehensive review of the medical records was performed. Data pertaining to the following variables were obtained: age at diagnosis; personal medical history; reproductive history; preoperative level of CA125; ultrasonography findings; surgery details; adjuvant chemotherapy; date of disease progression or death; and status of the patient at the most recent follow-up. Comprehensive surgical staging was defined according to International Federation of Gynecology and Obstetrics (FIGO) guidelines (version 2015) for ovarian cancer. Satisfactory debulking surgery was defined as residual lesion ≤1 cm. Platinum-sensitivity was defined as relapse occurring ≥6 months after the completion of last regimen or lack of recurrence. Platinum-resistance was defined as relapse occurring within 6 months of the completion of last regimen.
The expressions of tumor suppressor gene protein p53, cell proliferation index Ki-67, estrogen receptor (ER) and progesterone receptor (PR) were evaluated using standard immunoperoxidase technique. The immunoreactivity was determined by counting the positively stained nuclei in at least 100 cells of the tumor tissue samples. Ki-67 immunoreactivity was expressed as a percentage. ER, PR, and p53 expressions were scored semiquantitatively as 0 (< 5% positive cells in 10 × HPF), 1 (5–25%), 2 (25–50%), 3 (51–75%), or 4 (75–100%).
Statistical analysis was performed using SPSS software (version 16.0, Chicago, IL, USA). All data are expressed as mean ± standard deviation (SD). Between-group differences with respect to continuous variables were assessed by
t
-test or Mann-Whitney test, as appropriate. The Pearson Chi-square test or Fisher's exact test was used to assess differences with respect to categorical variables. Spearman's correlation analysis was used to assess the correlation between variables. Variables with
p <
0.05 were included in the logistic regression model. Overall survival (OS) and progression-free survival (PFS) was calculated from the date of primary surgery to death and recurrence, respectively, or the last disease-free visit. Survival analysis was performed using Kaplan-Meier model. Variables associated with
p
values < 0.1 in univariate analyses were included in the Cox regression model to account for the confounding factors. All
p
values reported are two-tailed and a
p <
0.05 was considered significant.
Results
Discussion
Conclusions
Although this work has limitations inherent to retrospective studies, to the best of our knowledge, this is the largest study to compare patients diagnosed with OCCC with and without concomitant endometriosis. The two groups in this study were heterogeneous in many aspects such as age and FIGO stage. However, the prognosis was not different after controlling for confounding factors. The most important prognostic factor for the survival of OCCC patients was the chemosensitivity to platinum-based chemotherapy, which showed an inverse correlation with FIGO stage. This study calls for further research to unravel the mechanism of development of chemoresistance and underlines the need to develop novel therapeutic strategies for patients with advanced stage OCCC.
Acknowledgements
We thank the members of the Department of Pathology of Obstetrics and Gynecology Hospital of Fudan University for their help with the pathological reviews in this study.
Funding
This study was supported by grants from Shanghai Municipal Commission of Health and Family Planning (Y.L.) (grant 201540224).
Availability of data and materials
All data supporting this study are included in this article. Please contact the corresponding author for data requests.
Ethics approval and consent to participate
This study was approved by the ethics committee of Obstetrics and Gynecology Hospital of Fudan University (OGHFU) and the approval number is fck2016–21.
Consent for publication
Not applicable.
Competing interests
The authors declare that they have no competing interests.
Publisher's Note
Springer Nature remains neutral with regard to jurisdictional claims in published maps and institutional affiliations.
Open Access
This article is distributed under the terms of the Creative Commons Attribution 4.0 International License (
http://​creativecommons.​org/​licenses/​by/​4.​0/​
), which permits unrestricted use, distribution, and reproduction in any medium, provided you give appropriate credit to the original author(s) and the source, provide a link to the Creative Commons license, and indicate if changes were made. The Creative Commons Public Domain Dedication waiver (
http://​creativecommons.​org/​publicdomain/​zero/​1.​0/​
) applies to the data made available in this article, unless otherwise stated.