01.12.2017 | Research | Ausgabe 1/2017 Open Access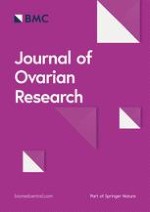 Endometriosis is the independent prognostic factor for survival in Chinese patients with epithelial ovarian carcinoma
Zeitschrift:
Autoren:

Tong Ren, Shu Wang, Jian Sun, Ji-Min Qu, Yang Xiang, Keng Shen, Jing He Lang
Abstract
Background
Clinico-pathological characteristics and possible prognostic factors among women with epithelial ovarian carcinoma (EOC) with or without concurrent endometriosis were explored.
Method
We retrospectively identified 304 patients with EOC treated primarily at Peking Union Medical College Hospital with median follow-up time of 60 months.
Results
Of 304 patients with EOC, concurrent endometriosis was identified in 69 (22.7%). The patients with concurrent endometriosis were younger and more probably post-menopausal at onset, were less likely to have abdominal distension, with significantly lower level of pre-surgery serum Ca125 and less possibility of having the history of tubal ligation. The women with concurrent endometriosis group were more likely to have early stage tumors (88.41% versus 52.77%), receive optimal cytoreductive surgery (92.75% versus 71.06%), and less likely to have lymph node metastasis or to develop platinum resistance disease (7.25% versus 14.89%, and 7.35% versus 20%), when compared with women without coexisting endometriosis. The univariate analysis showed that concurrent endometriosis was a prognostic factor for overall survival (OS) and disease-free survival (DFS), but this association just remained in the DFS by multivariate analysis. Besides, multivariate analysis also showed that FIGO stage, residual disease, chemotherapy cycles, chemotherapy resistance and concomitant hypertension were the independent impact factors of OS for EOC patients; whereas FIGO stage, lymphadenectomy, residual disease, coexisting endometriosis and chemoresistance were independent impact factors of DFS for those patients.
Conclusions
EOC patients with concurrent endometriosis showed distinct characteristics and had longer overall survival and disease-free survival when compared with those without endometriosis. Endometriosis was the independent prognostic factor for DFS for patients in this series.