01.12.2018 | Research | Ausgabe 1/2018 Open Access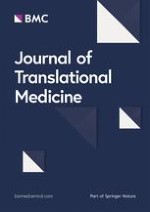 Endoplasmic reticulum stress in perivascular adipose tissue promotes destabilization of atherosclerotic plaque by regulating GM-CSF paracrine
Zeitschrift:
Autoren:

Ru Ying, Sheng-Wei Li, Jia-Yuan Chen, Hai-Feng Zhang, Ying Yang, Zhen-Jie Gu, Yang-Xin Chen, Jing-Feng Wang
Wichtige Hinweise
Electronic supplementary material
Ru Ying, Sheng-Wei Li and Jia-Yuan Chen contributed equally to this work
Abstract
Background
Perivascular adipose tissue (PVAT) accelerates plaque progression and increases cardiovascular risk. We tested the hypothesis that PVAT contributed to plaque vulnerability and investigated whether endoplasmic reticulum stress (ER stress) in PVAT played an important role in vulnerable plaque.
Methods
We transplanted thoracic aortic PVAT or subcutaneous adipose tissue as a control, from donor mice to carotid arteries of recipient apolipoprotein E deficient (apoE−/−) mice after removing carotid artery collar placed for 6 weeks. Two weeks after transplantation, ER stress inhibitor 4-phenyl butyric acid (4-PBA) was locally administrated to the transplanted PVAT and then animals were euthanized after 4 weeks. Immunohistochemistry was performed to quantify plaque composition and neovascularization. Mouse angiogenesis antibody array kit was used to test the angiogenic factors produced by transplanted adipose tissue. In vitro tube formation assay, scratch wound migration assay and mouse aortic ring assay were used to assess the angiogenic capacity of supernatant of transplanted PVAT.
Results
Ultrastructural detection by transmission electron microscopy showed transplanted PVAT was a mixed population of white and brown adipocytes with abundant mitochondria. Transplanted PVAT increased the intraplaque macrophage infiltration, lipid core, intimal and vasa vasorum neovascularization and MMP2/9 expression in plaque while decreased smooth muscle cells and collagen in atherosclerotic plaque, which were restored by local 4-PBA-treatment. Antibody array analysis showed that 4-PBA reduced several angiogenic factors [Granulocyte Macrophage Colony Stimulating Factor (GM-CSF), MCP-1, IL-6] secreted by PVAT. Besides, conditioned medium from 4-PBA treated-PVAT inhibited tube formation and migration capacity of endothelial cells and ex vivo mouse aortic ring angiogenesis compared to conditioned medium from transplanted PVAT. mRNA expression and protein levels of GM-CSF were markedly elevated in adipocytes under ER stress which would be suppressed by 4-PBA. In addition, ER stress enhanced NF-κB binding to the promoter of the mouse GM-CSF gene in adipocytes confirmed by Chromatin immunoprecipitation analyses.
Conclusions
Our findings demonstrate that ER stress in PVAT destabilizes atherosclerotic plaque, in part through increasing GM-CSF paracrine via transcription factor NF-κB.