01.06.2015 | Ausgabe 6/2015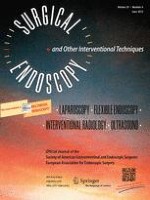 Endoscopic ultrasound-guided fine-needle biopsy of small solid pancreatic lesions using a 22-gauge needle with side fenestration
Zeitschrift:
Autoren:

Carlo Fabbri, Carmelo Luigiano, Antonella Maimone, Ilaria Tarantino, Paola Baccarini, Adele Fornelli, Rosa Liotta, Annamaria Polifemo, Luca Barresi, Mario Traina, Clara Virgilio, Vincenzo Cennamo
Abstract
Background
Early detection of small pancreatic cancer is important because expected survival is markedly better for tumors ≤2 cm. A new endoscopic ultrasound-(EUS) guided biopsy needle with side fenestration has been recently developed to enable fine-needle biopsy (FNB) under EUS guidance. The aim of this study was to evaluate the outcome of EUS–FNB using a 22-gauge ProCore needle in solid pancreatic lesions ≤2 cm, in terms of diagnostic accuracy and yield.
Methods
From January 2011 to December 2012, all consecutive EUS-guided tissue sampling of small pancreatic lesions (≤2 cm) were performed using 22-gauge ProCore needles; the data of these patients were analyzed retrospectively.
Results
Sixty-eight patients with a mean age of 65.7 years were included. The mean lesion size was 16.5 mm (range 5–20). None of the patients developed complications. On pathological examination, the tissue retrieved was judged adequate in 58 out of 68 cases (85.3 %) and the presence of a tissue core was recorded in 36 out of 68 cases (52.9 %). The overall sensitivity, specificity, positive predictive value, negative predictive value, and accuracy were 80, 100, 100, 40, and 82 %, respectively.
Conclusion
Our results suggested that EUS–FNB of small pancreatic lesions using a 22-gauge ProCore needle is effective and safe, and supports our hypothesis that EUS–FNB is highly useful in establishing the nature of small pancreatic lesions.