01.12.2018 | Case report | Ausgabe 1/2018 Open Access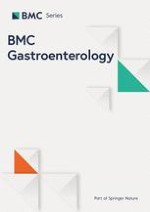 Endoscopic ultrasound-guided transmural drainage for subphrenic abscess: report of two cases and a literature review
Zeitschrift:
Autoren:

Shinichi Morita, Kenya Kamimura, Takeshi Suda, Chiyumi Oda, Takahiro Hoshi, Tsutomu Kanefuji, Kazuyoshi Yagi, Shuji Terai
Abstract
Background
An intra-abdominal abscess can sometimes become serious and difficult to treat. The current standard treatment strategy for intra-abdominal abscess is percutaneous imaging-guided drainage. However, in cases of subphrenic abscess, it is important to avoid passing the drainage route through the thoracic cavity, as this can lead to respiratory complications. The spread of intervention techniques involving endoscopic ultrasonography (EUS) has made it possible to perform drainage via the transmural route.
Case presentation
We describe two cases of subphrenic abscess that occurred after intra-abdominal surgery. Both were treated successfully by EUS-guided transmural drainage (EUS-TD) without severe complications. Our experience of these cases and a review of the literature suggest that the drainage catheters should be placed both internally and externally together into the abscess cavity. In previous cases there were no adverse events except for one case of mediastinitis and pneumothorax resulting from transesophageal drainage. Therefore, we consider that the transesophageal route should be avoided if possible.
Conclusions
Although further studies are necessary, our present two cases and a literature review suggest that EUS-TD is feasible and effective for subphrenic abscess, and not inferior to other treatments. We anticipate that this report will be of help to physicians when considering the drainage procedure for this condition. As there have been no comparative studies to date, a prospective study involving a large number of patients will be necessary to determine the therapeutic options for such cases.