01.07.2015 | Original Article | Ausgabe 3/2015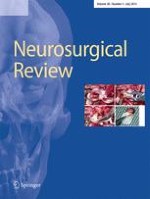 Endoscopic versus microscopic approach for surgical treatment of acromegaly
Zeitschrift:
Autoren:

Hussein Fathalla, Michael D. Cusimano, Antonio Di Ieva, John Lee, Omar Alsharif, Jeannette Goguen, Stanley Zhang, Harley Smyth
Wichtige Hinweise
Comments
Martin Bettag, Trier, Germany
This is a single-institution retrospective study on the results of transsphenoidal surgery in GH-producing pituitary adenomas causing acromegaly. Patients were either operated on with the aid of a microscope (
n
 = 23) or an endoscope (
n
 = 42), and the results were compared. Basically, the results showed no significant difference in the rate of gross total tumor resection and also in the rate of biochemical remission. In the subgroup of parasellar extension into the cavernous sinus, there was a tendency of higher gross total resection rate in the endoscopic group. In view of complications, in the microscopic group, there was a significant higher rate of temporary as well as permanent diabetes insipidus.
The main disadvantage of this study is the fact that it is non-randomized and only two surgeons were involved, each one of them performed only one technique. The rate of temporary (34.7 %) and permanent (17.3 %) diabetes insipidus in the microscopic group is much higher than otherwise reported in the literature. So, this may be rather a surgeon-related than a technique-related complication. Also, the number of patients is fairly low. Gross total tumor resection is an important goal, but much more important is the rate of biochemical remission. In the endoscopic group, the overall remission rate was 45.2 %. More than a half of the patients in the endoscopic group could not be cured surgically. We have to accept that regardless of the mode of resection, biological factors do influence the rate of surgical cure rate in acromegaly. Patients with high preoperative GH levels and radiological signs of tumor invasion are less likely to achieve remission by surgery alone and most of them need an adjuvant multimodality treatment with medication and/or various forms of radiation therapy (1).
1. Robert M. Starke, Daniel M. S. Raper, Spencer C. Payne, Mary L. Vance, Edward H. Oldfield, John A. JaneJr. (2013) Endoscopic vs Microsurgical Transsphenoidal Surgery for Acromegaly: Outcomes in a Concurrent Series of Patients Using Modern Criteria For Remission.
The Journal of Clinical Endocrinology & Metabolism
98:8, 3190–3198
Makoto Nakamura, Hannover, Germany
The authors present a retrospective study of 65 acromegalic patients who underwent transsphenoidal surgery using endoscopic or microscopic techniques. Patients were operated between 2000 and 2013 and were assigned to two senior pituitary surgeons. One surgeon routinely used the microscopic approach and the other surgeon the endoscopic approach. Two different operative techniques were provided according to the existing referral patterns. The endoscopic approach was performed in 42 patients, while the microscopic approach was performed in 23 patients. Despite of the retrospective nature of their study with its well-known limitations concerning interpretation of the results, interesting data are provided. The authors showed that there was no significant difference in the rates of biochemical remission between the endoscopic and microscopic techniques. However, gross total resection was more often achieved in tumors with cavernous sinus involvement using the endoscopic technique. Suprasellar or infrasellar extension of the tumor did not have any influence on GTR rates in both groups. When radical tumor removal (including the intracavernous portion of the tumor) is intended, better lateral visualization could be obtained with the endoscope. It needs to be pointed out that the rate of cavernous sinus invasion in this series was quite high with 49 %. Interestingly, concerning postoperative complications, DI was significantly higher in the microscopic group. It may be due to better visualization through the endoscope but on the other hand, new postoperative pituitary deficit of the anterior lobe was potentially higher in the endoscopic group (although not statistically significant), which is rather in contrast to the before mentioned. This retrospective study showed that the main goal of hormonal remission can be achieved with comparable success, either using the microscopic or endoscopic method, provided that surgery is performed by experienced pituitary surgeons. It will be of continuing interest, whether further implementation of HD and 3D techniques will have an impact on surgical outcome of these patients.
Abstract
Transsphenoidal surgery in the setting of acromegaly is quite challenging due to increased soft tissue mass, bony overgrowth, and bleeding. There is a debate on the endoscopic versus microscopic approach for these patients. The purpose of our study is to compare the outcomes for acromegaly after transsphenoidal surgery using both techniques. Retrospective review of 65 acromegalic patients who underwent transsphenoidal surgery in our department. Clinical remission was defined as resolution of typical acromegalic symptoms. Radiological resection was defined by volumetric criteria, and biochemical remission was defined as by the 2010 consensus on the criteria for remission of acromegaly. There was no significant difference in age, preoperative endocrine status, percent of macro adenomas, suprasellar, or infrasellar extension between both groups. Patients were assigned to both groups based on our existing referral pattern. Endoscopic approach was performed in 42 patients, while the microscopic approach was performed in 23 patients. No significant difference in remission rates was found between both groups (45.2 vs. 34.7 %,
p
 = 0.40). The endoscopic group, however, had a significantly higher rate of gross total resections (61 vs. 42 %,
p
 = 0.05). There was also a trend towards higher rates of gross total resections when cavernous sinus was present (48 vs. 14.2 %,
p
 = 0.09). Postoperative diabetes insipidus occurred more in microscopic patients (34.7 vs. 17 %,
p
 = 0.05), otherwise there was no significant difference in rates of complications. The median follow-up period was 56.6 months (range 6–156, mean 66.1). There is no significant difference in the rates of biochemical remission between the endoscopic and microscopic techniques. The endoscope technique, however, seems to be superior in achieving gross total resection especially with tumors invading the cavernous sinus.