01.06.2014 | Clinical Investigation | Ausgabe 3/2014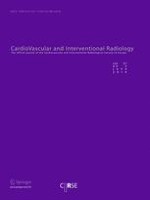 Endovascular Treatment for the Basilar Artery Dissection
Zeitschrift:
Autoren:

Che Jiang, Qiang Li, Jian-Min Liu, Qing-Hai Huang
Wichtige Hinweise
Che Jiang and Qiang Li should be considered as co-first authors.
Abstract
Purpose
To determine the safety and efficacy of endovascular therapy for the treatment of basilar artery dissection (BAD).
Methods
Patients with BAD admitted to our hospital from June 2002 to December 2011 were retrospectively reviewed. Strict inclusion and exclusion criteria were made. At enrollment, patients' manifestations were evaluated. The different devices and techniques used for each patient were recorded and further classified into two groups: the coiling-only group, in which lesions were treated only with coils; and the stented group, in which lesions were treated with only stents or by stent-assisted embolization. Shapes of BAD were described and classified into three types: dilation, pearl-and-string sign, and stenosis. Presentations of BAD were classified as ruptured or unruptured. Digital subtraction angiography results obtained immediately after intervention and at follow-up were evaluated and classified into two groups: stable/improved or recanalized/worsened. Clinical outcome was evaluated by modified Rankin Scale score.
Results
A total of 29 patients were included, and 28 of them were followed up clinically and angiographically. No significant difference of recurrence rate existed between ruptured and unruptured BAD. The coiling-only group demonstrated a significantly higher recurrence rate than the stent-assisted group. In the 22 instances of BAD presenting with dilated shapes, stented cases had better radiological outcome than unstented cases, and initial packing of completely/near completely occluded cases had better radiological follow-up results.
Conclusion
Endovascular therapy proved safe and effective. Stent placement and initial complete occlusion were favorable factors for follow-up stable/improved outcome.