01.12.2017 | Research article | Ausgabe 1/2017 Open Access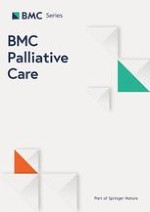 Engaging patients and families to create a feasible clinical trial integrating palliative and heart failure care: results of the ENABLE CHF-PC pilot clinical trial
Zeitschrift:
Autoren:

Marie Bakitas, J. Nicholas Dionne-Odom, Salpy V. Pamboukian, Jose Tallaj, Elizabeth Kvale, Keith M. Swetz, Jennifer Frost, Rachel Wells, Andres Azuero, Konda Keebler, Imatullah Akyar, Deborah Ejem, Karen Steinhauser, Tasha Smith, Raegan Durant, Alan T. Kono
Wichtige Hinweise
Electronic supplementary material
The online version of this article (doi:
10.​1186/​s12904-017-0226-8
) contains supplementary material, which is available to authorized users.
Background
Methods
Results
Discussion
The purpose of this 2-site, single-arm pilot study was to determine feasibility and potential efficacy of implementing the ENABLE CHF-PC EPC tele-health intervention in a racially-diverse, southeastern US HF population. Previously, ENABLE had demonstrated effectiveness in two large cancer RCTs [
33
,
43
] and in a small, mostly white northeastern HF sample [
30
]. We were able to achieve our primary study feasibility/acceptability aim in a racially and culturally diverse sample by engaging patients and family caregivers and soliciting their feedback to make improvements in the study design, measures, and intervention.
The key lessons learned from this pilot could be of considerable value to other researchers and clinicians attempting to integrate supportive and palliative care into racially-diverse HF populations. First, health literacy issues were marked in our trial and resulted in changes to future study outcome measures, intervention materials, and recruitment and retention procedures. Per our study coordinator reports, participants expressed frustration and dissatisfaction in completing our original health literacy measure, The Newest Vital Sign [
44
]. We recommend that others be sensitive to health literacy when working with this population and consider pretesting all measures and materials prior to initiating them in large scale trials.
Second, we encountered significant recruitment challenges in the southeastern site. We needed to screen more UAB individuals for eligibility (
n
 = 344) compared to DHMC (
n
 = 87) and proportionally fewer eligible UAB patients agreed to participate. Several factors may explain this discrepancy. The southeast has a high proportion of individuals of black race; this population experiences the highest burden of illness from HF in the US and at a much younger age than whites [
45
]. Blacks have also been noted to have high rates of healthcare system mistrust and a much lower uptake of palliative and hospice services than whites [
46
–
51
]. In response to these factors, we reduced our age eligibility criterion from 65 to 50 years and contracted with a recruitment service who was highly-experienced in community-based research in racially underserved populations and maintained weekly communications with the recruitment service and UAB cardiologists at HF clinical meetings.
Second, this was our first effort to identify and recruit eligible, racially-diverse HF patients for an early palliative care study. Our cardiologist co-investigators were extremely supportive and cooperative, and assisted us to find the most efficient and effective way to identify eligible patients and refine our screening, recruitment and operational procedures without disrupting clinical patient care. Early on, we also realized the need to adjust processes to improve UAB participants' uptake of the outpatient palliative care consultation component of the intervention. The UAB Supportive Care and Survivorship Clinic faculty and staff helped us to refine outpatient palliative care consultation scheduling procedures so that, when-ever possible, these visits would coincide with other ap-pointments in an effort to overcome transportation issues of patients who lived long distances from the medical center. Many UAB patients lacked familiarity or had misperceptions about EPC, in some cases confusing it with hospice care. We provided our recruiters with ex-tensive training about the goals of EPC as providing "an extra layer of support" so that they were better able to introduce the study in a non-threatening way. We lever-aged the trusting relationship that most HF patients had with their cardiologists and the UAB health system and carefully 'branded' our materials to be consistent with all other UAB programs. We have also expanded our in-progress RCT recruitment sites to include the local Veteran's Affairs Medical Center, a nurse-led clinic for under-insured HF patients, and we are developing partnerships with community agencies, payers, and churches. Fostering clinical [
52
] and community [
48
,
52
–
54
] relationships are critical components of successful community-based recruitment.
Third, participant retention was equally challenging. As is common in palliative care trials, [
55
,
56
] both sites experienced considerable intervention, measurement and overall attrition. Fewer UAB patients participated in the outpatient palliative care consultation (32% vs 68%) and intervention sessions (41% vs 94%), and fewer UAB caregivers completed all intervention sessions (63% vs 90%). In exploratory analyses, in addition to site, we found links between patient attrition and lower activation scores and between caregiver attrition and lower QOL scores. We offer two explanations for our differential attrition. First, during joint weekly supervisory meetings, UAB more so than DHMC nurse coaches, reported that participants found the
Charting Your Course
guides to be lengthy and text-heavy. This combined with lower 'activation' levels may have caused some UAB participants to find the intervention burdensome. We revised our materials to be more colorful and pictorial to address what may have been a health literacy issue. The link between caregiver attrition and quality of life and burden is not surprising given that caregivers have been shown to neglect their own needs in favor of caring for the patient. Hence caregivers may not make time for participation in a support intervention [
57
]. Of interest, distance to the centers and patients' disability status were not predictors of attrition, reinforcing the ability of telephonic services to increase palliative care access.
Though not powered for hypothesis testing, we identified small-to-moderate longitudinal improvements in QOL, symptom, and psychological patient and caregiver-reported outcomes. Of interest is that there was a more robust improvement noted in UAB vs. DHMC patients and caregivers. The higher attrition at UAB may account for this difference. We were also intrigued by the significant between-site differences in the patient activation measure; UAB patients had much lower activation scores than DHMC patients and the scores remained stable over the course of the study. In our prior cancer study we also did not see a signal in this measure [
33
]. Though others have found improvement in PACIC empowerment subscales from early initiation of supportive care (via nurse navigators) [
58
] it may be that 'activation' is not the EPC mechanism or that the PACIC is not sufficiently sensitive to detect changes in activation. Alternatively, the relatively high activation scores observed in the DHMC cancer and HF samples, may be an indication that the instrument has a ceiling effect.
Several limitations of these findings are important to note. First, as a single-arm feasibility pilot study, the trial did not have a control group and was not powered to evaluate efficacy. However, as our primary goal was feasibility in a culturally-diverse clinical setting and population, we learned valuable lessons that informed our subsequent RCT, thereby reinforcing the necessary step of pilot testing interventions prior to embarking on large-scale intervention trials [
59
]. Second, the patient and caregiver identified post-intervention improvements are inconclusive, preliminary, and not to be generalized as eligibility criteria and intervention changes were made during the course of the pilot. Differential attrition between the two sites may account entirely for the outcome differences. We are currently conducting a large, NIH/NINR-funded clinical trial of ENABLE CHF-PC to evaluate efficacy and address most of these limitations.
Conclusion
In conclusion, a model of concurrent HF palliative care was feasibly pilot-tested in a heterogeneous sample of individuals with NYHA Class III/IV HF and their family caregivers. Between-site demographic, attrition, and participant-reported outcomes highlight the importance of intervention pilot-testing in culturally-diverse populations.
Acknowledgments
We would like to thank all of the clinicians and staff of Dartmouth-Hitchcock Medical Center, Department of Cardiology (especially Kathleen MacKay, RN, Virginia Beggs, MSN), Palliative Medicine (Lisa Stephens, MS, APRN, Amelia Cullinan, MD) staff, UAB School of Nursing members (Connie White-Williams, PhD, RN, Amanda Erba, BSN, RN), UAB Department of Cardiology (especially Renzo Loyaga-Rendon, MD and Deepak Acharya, MD), and UAB Division of Geriatrics, Gerontology, and Palliative Care (especially Rodney Tucker, MD, Ali Ahmed, MD) for supporting the study. We would also like to thank Julie Schach, James Mapson, Cynthia D Johnson, Cynthia Y Johnson, and Lori-Jane Higgins for assisting with recruitment and data collection. Most importantly we thank all patients and caregivers for contributing their time and feedback.
Funding
This work was supported by a Pilot/Exploratory grant from the National Palliative Care Research Center. Dr. Dionne-Odom has received support from the NIH/National Institute of Nursing Research (1K99NR015903), the NIH/National Cancer Institute (2R25CA047888–24), the National Palliative Care Research Center, and the American Cancer Society (RSG PCSM–124668).
Availability of data and materials
The datasets used and/or analysed during the current study are available from the corresponding author on reasonable request.
Ethics approval and consent to participate
The study protocol was approved by the institutional review boards of Dartmouth College (Lebanon, New Hampshire) and the University of Alabama at Birmingham (Birmingham, Alabama). All patients and family caregivers provided written informed consent.
Consent for publication
Not applicable.
Competing interests
The authors declare that they have no competing interests.
Publisher's Note
Springer Nature remains neutral with regard to jurisdictional claims in published maps and institutional affiliations.
Open Access
This article is distributed under the terms of the Creative Commons Attribution 4.0 International License (
http://​creativecommons.​org/​licenses/​by/​4.​0/​
), which permits unrestricted use, distribution, and reproduction in any medium, provided you give appropriate credit to the original author(s) and the source, provide a link to the Creative Commons license, and indicate if changes were made. The Creative Commons Public Domain Dedication waiver (
http://​creativecommons.​org/​publicdomain/​zero/​1.​0/​
) applies to the data made available in this article, unless otherwise stated.