29.09.2016 | Original Research | Ausgabe 4/2016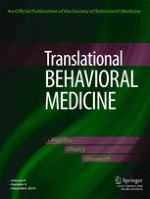 Engaging research participants to inform the ethical conduct of mobile imaging, pervasive sensing, and location tracking research
Zeitschrift:
Autoren:

EdD, MS Camille Nebeker, MPH Tiffany Lagare, BS, BA, PhDc Michelle Takemoto, MPH Brittany Lewars, MPH Katie Crist, PhD Cinnamon S. Bloss, PhD Jacqueline Kerr
Wichtige Hinweise
Manuscript prepared for re-submission to Translational Behavioral Medicine
Implications
Practice
: Stakeholders, including institutional review boards (IRBs), behavioral scientists, and research participants must work collaboratively to advance evidence-based ethical practices responsive to research using emerging technologies.
Policy
: Regulations and ethical practices for human research protections must evolve to meet the needs of dynamic twenty-first century science.
Research
: There is a growing need for empirical research to 1—"inform" the informed consent process, 2—qualify and quantify the magnitude and probability of potential risks, and 3—guide data management strategies when collecting new forms of personal health data.
Abstract
Researchers utilize mobile imaging, pervasive sensing, social media, and location tracking (MISST) technologies to observe and intervene with participants in their natural environment. The use of MISST methods and tools introduces unique ethical issues due to the type and quantity of data, and produces raising new challenges around informed consent, risk assessment, and data management. Since MISST methods are relatively new in behavioral research, there is little documented evidence to guide institutional review board (IRB) risk assessment and inform appropriate risk management strategies. This study was conducted to contribute the participant perspectives when considering ethical and responsible practices. Participants (
n
 = 82) enrolled in an observational study where they wore several MISST devices for 1 week completed an exit survey. Survey items focused on the following: 1—device comfort, 2—informed consent, 3—privacy protections, and 4—bystander engagement. The informed consent process reflected participant actual experience. Device comfort and privacy were raised as concerns to both the participants and bystanders. While the majority of the participants reported a positive experience, it is important to note that the participants were volunteers who were not mandated to wear tracking devices and that persons who are mandated may not have a similar response. Findings support strategies proposed in the Kelly et al. (2013) ethical framework, which emphasizes procedures to improve informed consent, protect privacy, manage data, and respect bystander rights when using a wearable camera.