01.12.2017 | Research article | Ausgabe 1/2017 Open Access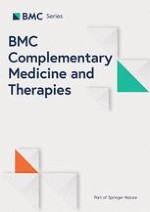 Enhanced efficacy with reduced toxicity of chemotherapy drug 5-fluorouracil by synergistic treatment with Abnormal Savda Munziq from Uyghur medicine
Zeitschrift:
Autoren:

Tao Yang, Mutalifu Aimaiti, Deqi Su, Weiwei Miao, Bin Zhou, Dilinuer Maimaitiyiming, Abdiryim Yusup, Halmurat Upur, Ainiwaer Aikemu
Wichtige Hinweise
Tao Yang and Mutalifu Aimaiti contributed equally to this work.
Abstract
Background
Abnormal Savda Munziq (ASMq) is a traditional prescription in Uyghur Medicine, and its treatment of complex diseases such as tumors and asthma has been proven to be effective in Uyghur medical clinical practice. The efficacy-enhancing and toxicity-reducing properties of ASMq were studied on mice with transplanted cervical cancer (U27) tumors, which were treated with 5-fluorouracil (5-FU) in this work.
Methods
To investigate the synergistic effect of ASMq and 5-FU on U27 cells, inhibitory effects on cell proliferation were determined through a MTT assay. 48 Kunming mice which were randomly divided in to 6 groups: control group, model group, 5-FU group, 5-FU combine with ASMq low-dose group, 5-FU combine with ASMq medium-dose group, and 5-FU combine with ASMq high- dose group, the inhibition rate of the tumor, the viscera indexes, and the content of serum tumor necrosis factor-α (TNF-α), alanine aminotransferase (ALT) and aspartate aminotransferase (AST) were determined. The expression levels of transforming growth factor-β1 (TGF-β1) and human papillomavirus type 16 E2 (HPV16 E2) protein were assessed by Western blot. Pathological changes in the liver were observed.
Result
The inhibition rates of tumors, the 5-FU + ASMq.H group(80.64%), 5-FU + ASMq.M group (90.67%), 5-FU + ASMq.L group (72.03%) and 5-FU group (66.89%), clearly indicated that the effects of tumor inhibition. The thymus index and spleen index were increased, and the serum concentration of TNF-α increased while ALT and AST concentrations were decreased, and TNF-α protein expression were increased while TGF-β1 and HPV16 E2 were decreased. ASMq might can improve livers central vein hyperemia and interstitial edema, and preserve the radial structure of the hepatic cords.
Conclusions
The results suggested that ASMq might reduce toxicity and enhance the efficacy of the chemotherapeutic drug 5-fluorouracil in the treatment of cervical carcinoma.