22.02.2018 | Gynecologic Oncology (A Fader, Section Editor) | Ausgabe 1/2018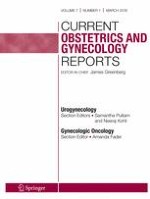 Enhanced Recovery After Minimally Invasive Surgery (ERA
mi

S) for Gynecology
Zeitschrift:
Autor:

Rebecca Stone
Wichtige Hinweise
This article is part of the Topical Collection on
Gynecologic Oncology
Abstract
Purpose of Review
Enhanced Recovery After Surgery (ERAS) programs are mechanisms for achieving multimodal, evidence-based reductions in surgical stress and value-based improvements in perioperative care. Implementation of these programs has been shown to significantly decrease narcotics utilization, perioperative morbidity, length of stay (LOS), and cost of care. This review summarizes the origins and penetrance of ERAS programs into the field of gynecology to date. It presents the rationale and basic construct for an ERAS program customized for gynecologic minimally invasive surgery (MIS), with special focus on patient education, preoperative oral hydration and carbohydrate loading, multimodal pain control, and goal-directed fluid therapy. Key determinants of success, such as compliance monitoring, are discussed. Outcome measures and instruments for their assessment relevant to MIS are also explored.
Recent Findings
ERAS guidelines dedicated to MIS for benign and malignant gynecologic conditions are non-existent. Rather, patients undergoing MIS procedures have largely been co-managed with patients undergoing open gynecologic surgery on ERAS pathways which have been extrapolated from colorectal surgery. While some ERAS pathway elements likely provide benefit independent of surgical approach, others should be uniquely adapted to MIS. The strength of findings related to ERAS in the gynecologic literature has been undercut by a lack of compliance monitoring. Fixing this deficiency as well as using instruments that assess postoperative recovery as a multidimensional construct will afford a more complete understanding of the benefits and flaws of ERA
mi
S pathways so that they can continue to evolve. ERA
mi
S in gynecology has the potential to be a valuable mechanism for addressing the underutilization of MIS, over-prescribing of opioid pain medication, and need for more rigorous surgical research in our field.
Summary
Given the known benefits of ERAS program utilization for women undergoing open gynecologic surgery, ERAS programs for gynecologic MIS (ERAmiS) should be explored and formalized. Recognizing that MIS alone confers many clinical gains, including decreased LOS, surgical complications, and readmission rates, ERA
mi
S should target more sophisticated and patient-oriented outcome measures than those traditionally selected for open gynecologic surgery.