05.02.2018 | Original Article | Ausgabe 6/2018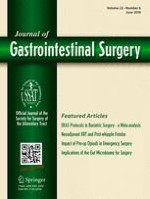 Enhanced Recovery via Peripheral Nerve Block for Open Hepatectomy
Zeitschrift:
Autoren:

Lucas W. Thornblade, Yongwoo D. Seo, Tracy Kwan, Jane H. Cardoso, Eric Pan, Gregory Dembo, Raymond S. W. Yeung, James O. Park
Wichtige Hinweise
Meeting presentation: This work was presented as a poster at the 2017 Society of the Surgery for the Alimentary Tract Meeting
Abstract
Background
Enhanced recovery after surgery (ERAS) protocols are now commonplace in many fields of surgery, but only limited data exists for their use in hepatobiliary surgery. We implemented standardized ERAS protocols for all open hepatectomies and replaced thoracic epidurals with a transversus abdominis plane (TAP) block.
Methods
We performed a retrospective cohort study of all patients undergoing open hepatectomy during the 14 months before and 19 months after implementation of an ERAS protocol at our institution (January 2014–September 2016). Trained abstractors reviewed charts for patient demographics, perioperative details, and healthcare utilization. All nursing-reported visual analog scale pain scores were sampled to identify patients with uncontrolled pain (daily mean score > 5). Outcomes included length of stay (LOS), costs, and 30-day readmission.
Results
A total of 127 patients (mean age 54.6 ± 13.0 years, 44% female) underwent open liver resection (69 [54%] after ERAS implementation). ERAS protocols were associated with significantly lower rates of ICU admission (47 vs. 13%,
p
 < 0.001), shorter LOS (median 5.3 vs. 4.3 days,
p
 = 0.007), and lower median costs ($3566 less,
p
 = 0.03). Readmission remained low throughout the study period (5% pre-ERAS, 4% during ERAS,
p
 = 0.83). Rates of uncontrolled pain were either the same or better after ERAS implementation through post-operative day #3 (41% pre-ERAS, 23% during ERAS,
p
 = 0.03).
Discussion
The use of TAP block for hepatectomy as part of an ERAS protocol is associated with improved quality and cost of care. Surgeons performing liver resections should consider standardization of evidence-based best practices in all patients.