01.12.2012 | Research | Ausgabe 1/2012 Open Access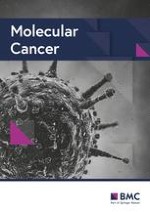 Enhancement of lung tumorigenesis in a
Gprc5a

Knockout mouse by chronic extrinsic airway inflammation
Zeitschrift:
Autoren:

Peter Barta, Carolyn Van Pelt, Taoyan Men, Burton F Dickey, Reuben Lotan, Seyed Javad Moghaddam
Wichtige Hinweise
Electronic supplementary material
The online version of this article (doi:
10.​1186/​1476-4598-11-4
) contains supplementary material, which is available to authorized users.
Competing interests
The authors declare that they have no competing interests.
Authors' contributions
PB carried out the mouse
in vivo
study including NNK injection, weekly NTHi exposure, and lung tissue extraction, and participated in preparing the figures and drafting the manuscript. CVP carried out the histopathology examination and analysis of the lung tissues and participated in preparing the figures. TM participated in the mouse colony maintenance, genotyping, and lung tissue extraction. BFD participated in the design of the study and the drafting the manuscript. RL conceived of the study, and participated in its design and coordination and helped to draft the manuscript. SJM participated in the design of the study, assessed lung tumor burden and inflammation, performed the statistical analysis, and participated in preparing the figures and drafting the manuscript. All authors read and approved the final manuscript.
Abstract
Background
Although cigarette smoking is the principal cause of lung carcinogenesis, chronic obstructive pulmonary disease (COPD), an inflammatory disease of the lung, has been identified as an independent risk factor for lung cancer. Bacterial colonization, particularly with non-typeable
Haemophilus influenzae
(NTHi), has been implicated as a cause of airway inflammation in COPD besides cigarette smoke. Accordingly, we hypothesized that lung cancer promotion may occur in a chronic inflammatory environment in the absence of concurrent carcinogen exposure.
Results
Herein, we investigated the effects of bacterial-induced COPD-like inflammation and tobacco carcinogen-enhanced tumorigenesis/inflammation in the retinoic acid inducible G protein coupled receptor knock out mouse model (Gprc5a-/- mouse) characterized by late-onset, low multiplicity tumor formation. Three-month-old Gprc5a-/- mice received 4 intraperitoneal injections of the tobacco-specific carcinogen, NNK, followed by weekly exposure to aerosolized NTHi lysate for 6 months. The numbers of inflammatory cells in the lungs and levels of several inflammatory mediators were increased in Gprc5a-/- mice treated with NTHi alone, and even more so in mice pretreated with NNK followed by NTHi. The incidence of spontaneous lung lesions in the Gprc5a-/- mice was low, but NTHi exposure led to enhanced development of hyperplastic lesions. Gprc5a-/- mice exposed to NNK alone developed multiple lung tumors, while NTHi exposure increased the number of hyperplastic foci 6-fold and the tumor multiplicity 2-fold. This was associated with increased microvessel density and HIF-1α expression.
Conclusion
We conclude that chronic extrinsic lung inflammation induced by bacteria alone or in combination with NNK enhances lung tumorigenesis in Gprc5a-/- mice.