16.05.2019 | Retinal Disorders | Ausgabe 8/2019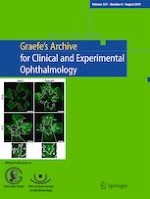 Enlargement of polypoidal choroidal vasculopathy lesion without exudative findings assessed in en face optical coherence tomography images
Autoren:

Han Jo Kwon, Jae Jung Lee, Sung Who Park, Ik Soo Byon, Ji Eun Lee
Wichtige Hinweise
Electronic supplementary material
Publisher's note
Springer Nature remains neutral with regard to jurisdictional claims in published maps and institutional affiliations.
Abstract
Purpose
This study aimed to investigate growth of polypoidal choroidal vasculopathy (PCV) without exudative findings assessed in en face optical coherence tomography (OCT) images and its clinical implications.
Methods
Fifty patients who were diagnosed with PCV and had no disease activity after treatment with intravitreal anti-vascular endothelial growth factor (anti-VEGF) were included. Patients were followed up for at least 12 months. Measurement of best-corrected visual acuity and volume scan using swept-source OCT was performed at each visit. The neovascular area of PCV was assessed using en face OCT. Growth group comprised patients who showed increase in neovascular area in the en face images without exudative findings. The main outcome measure was relationship between growth of PCV and recurrence.
Results
Among 50 eyes of 50 patients with average age of 68.5 ± 8.6 years, 25 (50%) eyes were included in the growth group. Exudative recurrence was noted more frequently in the growth group (18 eyes, 72%) than in the non-growth group (6 eyes, 24%,
P
 = .002, odds ratio = 8.143). More injections were performed in the growth group (4.7 ± 2.1 vs. 1.9 ± 2.4,
P
 = .002), but there was no difference in visual acuity at 1 year. After an exudative recurrence following the lesion growth, more frequent injections were required than before the recurrence to achieve no disease activity (
P
 = .002).
Conclusion
PCV lesion growth without fluid preceded exudative recurrence and worsening of response to anti-VEGF treatment.