19.12.2016 | Brief Communication | Ausgabe 2/2017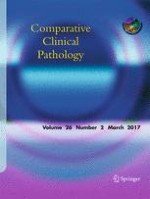 Enrofloxacin stimulates cell death in several tissues of vannamei shrimp (
Litopenaeus vannamei

)
Zeitschrift:
Autoren:

Maftuch, Khadijah Aziz, Deaniza Eslfitri, Ellana Sanoesi, Asep A. Prihanto
Abstract
The aim of this research was to investigate the effect of enrofloxacin on vannamei shrimp (
Litopenaeus vanammei
) by measuring its accumulation and withdrawal time, in addition to its histopathological effects. The effect of enrofloxacin on the cells of vannamei shrimp has not yet been reported. The enrofloxacin levels were analysed by enzyme-linked immunosorbent assay (ELISA), and several tissues and organs, including the hepatopancreas, gills and muscles, were histopathologically analysed. Regarding the withdrawal time from shrimp tissue, the optimum enrofloxacin dose is 26.06 ± 13.67 μg/kg. The greatest enrofloxacin-induced damage was observed in the hepatopancreas, in which necrosis, aggregate transformed microvilli, atrophy, inflammatory cell infiltration and plasma leaking from blood vessels were observed. In addition, necrosis was found in the muscle tissue. However, no damage was found in the gills, and enrofloxacin did not affect the lymphoid organ, midgut caeca or gastric organ.