30.10.2020 | Original Article | Ausgabe 6/2020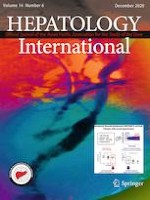 Entecavir combining Chinese herbal medicine for HBeAg-positive chronic hepatitis B patients: a randomized, controlled trial
Zeitschrift:
Autoren:

Xiaoke Li, Daqiao Zhou, Xiaoling Chi, Qin Li, Li Wang, Bingjiu Lu, Dewen Mao, Qikai Wu, Xianbo Wang, Mingxiang Zhang, Jingdong Xue, Yong Li, Wei Lu, Jianchun Guo, Feng Jiang, Xinwei Zhang, Zhiguo Li, Xianzhao Yang, Hui Guo, Danan Gan, Liyun He, Lin Luo, Ludan Zhang, Hongbo Du, Yong'an Ye
Wichtige Hinweise
Electronic supplementary material
Publisher's Note
Springer Nature remains neutral with regard to jurisdictional claims in published maps and institutional affiliations.
Abstract
Background and aim
Traditional Chinese medicine (TCM) is widely accepted and prescribed in China alongside Nucleoside analogs (NAs). In this double-blind, placebo-controlled, randomized, multi-center trial, we evaluated whether entecavir (ETV) plus TCM formulas Tiao-Gan-Yi-Pi granule (TGYP) and Tiao-Gan-Jian-Pi-Jie-Du granule (TGJPJD) increase the rate of hepatitis B e antigen (HBeAg) loss in Chinese patients.
Methods
596 eligible participants were randomly assigned, in a 1:1 ratio, to two study groups in this 108-week trial: The experiment group was assigned ETV plus the TCM formula. The control group was assigned ETV plus a TCM placebo. We compared the rate of HBeAg loss by the end of week 108 between the two arms as the primary outcome. Secondary outcomes included hepatitis B surface antigen (HBsAg) level, proportion of undetectable HBV-DNA, and liver enzymes (ALT, AST, GGT) at week 108.
Results
The combination therapy achieved superior HBeAg loss at 108 weeks, without additional adverse events. The rate of HBeAg loss at week 108 was 37.54% (95% CI 31.9–43.2%) in the experiment group and 27.21% (95% CI 22.0–32.4%) in the control group. There was a statistically significant difference between the two arms of 10.33% (95% CI 8.4–12.3%,
p
 = 0.008). The DNA loss rate, serum HBsAg level, and liver enzymes were similar between the groups by the end of 108th week.
Conclusion
Combining the Chinese herbal formula with ETV therapy demonstrated superior HBeAg clearance compared with ETV monotherapy. This finding indicates that this combined therapy could produce an improved therapeutic effect and safety profile.
Clinical trial number
ChiCTR-TRC-12002784 (Chinese Clinical Trial Registry).