01.12.2017 | Research | Ausgabe 1/2017 Open Access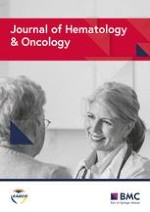 EPCR promotes breast cancer progression by altering SPOCK1/testican 1-mediated 3D growth
Zeitschrift:
Autoren:

Naiara Perurena, Carolina Zandueta, Susana Martínez-Canarias, Haritz Moreno, Silvestre Vicent, Ana S. Almeida, Elisabet Guruceaga, Roger R. Gomis, Marta Santisteban, Mikala Egeblad, José Hermida, Fernando Lecanda
Wichtige Hinweise
Electronic supplementary material
The online version of this article (doi:
10.​1186/​s13045-017-0399-x
) contains supplementary material, which is available to authorized users.
Abbreviations
APC/EPCR
Activated protein C/endothelial protein C receptor
PAR1
Protease-activated receptor 1
PfEMP1
Erythrocyte membrane protein 1
SPOCK1
SPARC/osteonectin, Cwcv and kazal-like domains proteoglycan
Background
In this study, we addressed the functional role of EPCR in primary and metastatic tumor growth in breast cancer using several human and murine xenograft models. We found that EPCR silencing impaired orthotopic tumor growth and metastatic activity to the skeleton and lungs. Moreover, high EPCR expression levels associated with a poor clinical outcome in a cohort of breast cancer patients. Furthermore, we showed that EPCR effects in tumor progression were APC independent and were partially mediated by a novel mechanism involving SPOCK1. Thus, these findings unveil a novel mechanism mediated by EPCR in tumorigenesis and metastasis of breast cancer with potential clinical impact on the therapeutic management of breast cancer patients.
Methods
Cell lines and reagents
One thousand eight hundred thirty-three human breast cancer cell line was a kind gift from Dr. Massagué (Memorial Sloan-Kettering Cancer Center, NY, USA) [
20
]. ANV5 murine breast cancer cell line was previously described [
21
,
22
]. APC (Xigris®) was purchased from Eli Lilly (Indianapolis, IN, USA). Anti-EPCR antibodies RCR252 and RCR1 were kindly provided by Dr. Fukudome (Saga Medical School, Japan) while 1489 was kindly gifted by Dr. Esmon (Oklahoma Medical Research Foundation, Oklahoma City, USA). F(ab´)
2
fractions of the RCR252 antibody were obtained as previously detailed [
9
]. shRNAs cloned into PLKO.1-puro vector and the empty vector were obtained from Mission® (Sigma-Aldrich).
Cell proliferation assay
Cell proliferation was assessed using CellTiter 96® AQueous One Solution Cell Proliferation Assay (MTS), according to manufacturer's recommendations (Promega). All absorbance values were normalized with the absorbance values from day 0 (5 h after seeding cells).
Cell cycle analysis
Cell cycle analysis was carried out with Click-iT® EdU Flow Cytometry Assay Kit (Invitrogen). Cells were maintained in culture for 24 or 48 h before adding 10 μM EdU for 2 h. Next, cells were harvested, fixed in formaldehyde (Click-iT® fixative), permeabilized in 1X Click-iT® saponin-based permeabilization and wash reagent, and incubated with the Click-iT® reaction cocktail for 30 min at room temperature in the dark. After a washing step, cells were incubated with 0.2 μg/μl RNase A (Sigma-Aldrich) for 1 h at room temperature, in the dark. 7AAD was added to the tubes 10 min before the acquisition of cells in a FACSCanto II cytometer (BD Biosciences). Data were analyzed using FlowJo® software v9.3.
Annexin-V flow cytometry assay
Cells were seeded into 24-well plates and cultured for 24 h. Next, cells were incubated with 2 μM staurosporine for 1 h or serum-starved overnight before the addition of 50 nM APC for 4 h followed by 2 μM staurosporine for 1 h next day. After staurosporine treatment, cells were harvested, resuspended in annexin-binding buffer (10 mM HEPES, 140 mM NaCl, and 2.5 mM CaCl 2, pH 7.4) and incubated with Alexa Fluor 647-conjugated annexin-V and 7AAD (BD Biosciences) for 15 min at room temperature, in the dark. Cells were acquired in a FACSCanto II cytometer (BD Biosciences) and analyzed using FlowJo® software v9.3.
Cell culture in 3D
Culture media was mixed at 1:1 ratio with Growth Factor Reduced Matrigel (BD Biosciences). One hundred microliters of the mix were added to each well of a 96-well plate and incubated at 37 °C for 30 min. Five hundred (1833, BT-549, ANV5, MCF10A) or 1000 (MDA-MB-231) cells in medium with 10% matrigel were added on top of the coating and maintained in culture for 8–10 days. Medium with 10% matrigel was replaced at day 4–5. Pictures of the spheres were taken at day 8–10 at ×4 magnification using an inverted microscope (Leica) and analyzed using Fiji software [
23
].
In vivo experiments
Athymic nude mice (
Foxn1
nu
) were purchased from Harlan (Barcelona, Spain) and maintained under specific pathogen-free conditions. Five- to six-week-old mice were used for all experiments. RAG-2
−/−
mice were bred at the in-house Animal Core Facility and used for the intratibial experiment. For the orthotopic injection, 50 μl containing 500,000 cells resuspended in Growth Factor Reduced Matrigel (BD Biosciences) mixed with PBS at 1:1 ratio were directly injected into the fourth mammary fat pads of mice (2 tumors per mouse). In the second orthotopic experiment, cells were injected resuspended in 20 μl of PBS without matrigel. Tumor growth was monitored regularly using a digital caliper and tumor volume was calculated as follows:
π
 × length × width
2
/6. For intracardiac injection, 10
5
cells in 100 μl of PBS were inoculated into the left cardiac ventricle, using a 29G needle syringe [
24
]. For intratibial injection, 15,000 cells in 5 μl of PBS were injected into the tibia's bone marrow through the femoro-tibial cartilage using a Hamilton syringe [
25
]. For intravenous injection, 100,000 cells in 100 μl of PBS were injected through the tail vein of mice. For BLI, animals were anesthetized and inoculated with 50 μl of 15 mg/ml D-luciferin (Promega). Images were taken during 1 min with a PhotonIMAGER™ imaging system (Biospace Lab) and analyzed using M3Vision software (Biospace Lab). Photon flux was calculated by using a region of interest (ROI) or by delineating the mouse for whole-body bioluminescence quantification. All bioluminescence signals were normalized with values from day 0, except for the metastasis experiment with RCR252 treatment. Radiographic and micro-computed tomography (Micro-CT) analyses were performed as described elsewhere [
26
].
Microarray analysis
RNA was extracted from snap-frozen mammary tumors and hybridized to Human Gene ST 2.0 microarrays (Affymetrix). Data were normalized with RMA (Robust Multi-Array Average) approach. Low expression probes were removed by filtering those that did not exceed a level of expression of 32 in at least one of the samples for each condition. Differentially expressed genes were identified using LIMMA (linear models for microarray data) method [
27
].
Statistical analysis
Statistical analysis was performed using SPSS v15.0. When data exhibited homoscedasticity, pairwise Student's
t
test and Mann–Whitney
U
test were used for normally and non-normally distributed variables, respectively. When data exhibited heterocedasticity, Welch and Median tests were used for normally and non-normally distributed variables, respectively. ANOVA and posterior Bonferroni tests were used for multiple comparisons of normally distributed variables. Kruskal–Wallis and posterior Bonferroni adjusted-Mann–Whitney
U
tests were used for multiple comparisons of non-normally distributed variables. Statistical significance was defined as significant (
p
 < 0.05, *), very significant (
p
 <0.01, **) and highly significant (
p
 < 0.001, ***). Other additional methods are included in the Additional file
1
.
Results
Discussion
In this work, we unveiled a novel molecular mechanism of EPCR contributing to breast cancer progression favoring tumor growth and metastatic activity to target organs. EPCR endowed cells with advantageous growth in 3D, an effect partially mediated by the extracellular matrix proteoglycan SPOCK1. These cell functions were correlated with increased metastatic risk and poor clinical outcome in breast cancer patients. Importantly, this association was relevant in all the molecular subtypes, except luminal A, indicating that EPCR could be useful as a potential prognostic marker in these patient subsets.
Besides its role in tumorigenesis, EPCR also displayed a marked prometastatic activity to target organs, events that cooperatively support its contribution to prognosis. The consistent results obtained in both metastatic models indicate that EPCR confers a functional advantage at late stages of the metastatic process. Moreover, differences in metastatic tumor burden became more relevant at advanced experimental time points, indicating an effect more pronounced during the colonization of target organs, as evidenced by the overt osseous colonization observed in the intratibial model.
Conclusions
In summary, our study unveils a novel role of EPCR as a clinically relevant factor in breast cancer, which promotes primary tumor growth and metastatic activities in target organs. Unexpectedly, EPCR modulates tumor cell-ECM interactions involved in 3D growth required for tumor progression and metastasis, in part by upregulating SPOCK1. These findings underscore a novel role of EPCR as a novel prognostic factor and a potential therapeutic target in a subset of breast cancer patients.
Acknowledgements
We are grateful to Carmen Berasain for helpful discussions. We thank members of the Morphology, Genomics and Bioinformatics and Animal Core Facilities for their helpful assistance, especially, L. Guembe, D. Corbacho, and M. Ariz. We thank Dr. Esmon and Dr. Fukudome for anti-EPCR antibodies.
Funding
N.P. holds a FPU fellowship from the Spanish Ministry of Education. This work was supported by "UTE project" from the Foundation for Applied Medical Research and a grant from the Spanish Ministry of Economy and Competitiveness to F.L. (SAF2012-40056).
Availability of data and materials
Authors´ contributions
FL and NP designed the study, discussed the results, and wrote the manuscript. NP, CZ, SMC, and HM performed in vitro and in vivo experiments and discussed the results. RRG and MS provided some reagents and discussed the results. ME and ASA directed some critical experiments and discussed the results. SV discussed the results and provided expertise for some experiments. EG interpreted and performed expression arrays and bioinformatics analysis. JH performed critical experiments, provided reagents, and discussed the results. FL coordinated all tasks and edited the manuscript. All authors participated in drafting the article and discussing the results. All authors read and approved the final manuscript.
Competing interests
Authors declare that there are no competing interests.
Consent for publication
Not applicable.
Ethics approval
All animal procedures (protocol 161–14) were approved by the CEEA (Ethical Committee for Animal Experimental Research).
Open Access
This article is distributed under the terms of the Creative Commons Attribution 4.0 International License (
http://​creativecommons.​org/​licenses/​by/​4.​0/​
), which permits unrestricted use, distribution, and reproduction in any medium, provided you give appropriate credit to the original author(s) and the source, provide a link to the Creative Commons license, and indicate if changes were made. The Creative Commons Public Domain Dedication waiver (
http://​creativecommons.​org/​publicdomain/​zero/​1.​0/​
) applies to the data made available in this article, unless otherwise stated.