01.12.2018 | Letter to the Editor | Ausgabe 1/2018 Open Access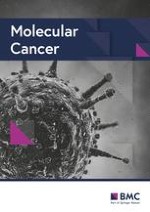 EphB2 stem-related and EphA2 progression-related miRNA-based networks in progressive stages of CRC evolution: clinical significance and potential miRNA drivers
Zeitschrift:
Autoren:

Mariangela De Robertis, Tommaso Mazza, Caterina Fusilli, Luisa Loiacono, Maria Luana Poeta, Massimo Sanchez, Emanuela Massi, Giuseppe Lamorte, Maria Grazia Diodoro, Edoardo Pescarmona, Emanuela Signori, Graziano Pesole, Angelo Luigi Vescovi, Jesus Garcia-Foncillas, Vito Michele Fazio
Wichtige Hinweise
Electronic supplementary material
Jesus Garcia-Foncillas and Vito Michele Fazio contributed equally to this work.
Abbreviations
MR3
Metastasis or recurrence within 3 years
TCGA-COAD
The Cancer Genome Atlas - colon adenocarcinoma
EphA2 and EphB2 are tyrosine kinase receptors that are involved in complex biochemical mechanisms underlying tumor heterogeneity primarily by guiding the positioning of intestinal cells with distinct stemness or differentiation properties [
1
]. EphA2
high
cells are localized in the upper differentiated crypt region, while EphB2 is expressed in a decreasing gradient from the crypt base toward the upper cell compartment and corresponds to an intestinal stem cell (ISC) marker [
2
]. At the onset of colorectal cancer (CRC), early events trigger continuous stem-like self-renewing state, giving rise to adenoma, while additional driver pathway alterations confer invasive behavior in advanced carcinoma [
3
]. EphA2 and EphB2 undergo progressive dysregulation in carcinogenesis that may resemble these different stages, so representing attractive druggable targets [
4
].
MicroRNA (miRNA) redundancy and the capacity of individual miRNAs to simultaneously regulate large cohorts of genes have shaped by evolution combinatorial miRNA-target networks that profoundly affect cellular properties, including the promotion of tumorigenic processes [
5
]. A network-based approach founded on the characterization of progressive miRNAomes centered on EphA2/EphB2 signaling during tumor development may unveil important regulatory networks and oncogenic targets.
Given that EphA2 and EphB2 have opposite distribution and roles along the intestinal crypt, we hypothesized that these receptors may influence alternative cell behaviors on initial or advanced CRC stages. Through an integrative translational approach (Additional File
1
: Figure S1) and a miRNAome-guided pathway analysis, we defined two transcriptional signatures that are associated with EphB2 cells/early CRC phases and EphA2 cells/late CRC phases, with significant prognostic value.
Results and discussion
Conclusions
EphA2 and EphB2 contribute, in a pleiotropic manner, to the CRC pathogenesis. We demonstrated that the early dysregulation of EphB2 at the CRC onset correlates with specific stem-like properties and that the late overexpression of EphA2 triggers tumor progression signals in the invasive CRC phase. These properties are orchestrated by distinct miRNAomes and are associated with miR-31-5p/miR-31-3p, miR-423-5p and their EphA2/EphB2-related target genes. These signatures have significant clinical value and may unveil clinical predictive biomarkers and potential therapeutic markers.
Acknowledgements
Not applicable.
Funding
This work was partially supported by grants from Italian Ministry of Education, University and Research (MIUR) national research program: MIUR RBAP10KJC5 to ALV, MIUR PON02_00576_3329762/3 AMIDERHA to VMF, and MIUR PON03PE_00232_Distretto H-Bio to VMF and GP, and Italian Association for Cancer Research: AIRC IG 14368 to ALV and AIRC MFAG 10520 to MLP. This work was also partially supported by the Italian Ministry of Health, IRCCS Ricerca Corrente RC1803LO36 to VMF. Bioinformatics analyses carried out by GP were performed using the infrastructures of the Italian node of ELIXIR funded by MIUR and Consiglio Nazionale delle Ricerche (CNR).
Availability of data and materials
The authors declare that the data supporting the findings of this study are available within the article and its supplementary information files.
Ethics approval and consent to participate
Use and treatment of mice was approved by the Italian Ministry of Health with decree no. 336/2013-B.
The collection of clinical samples was approved by the Ethics Committee of the IRCCS "Regina Elena" National Cancer Institute and all patients signed an informed consent in accordance with the WMA Declaration of Helsinki 2013.
Consent for publication
Not applicable.
Competing interests
All authors declare that they have no competing interest.
Publisher's Note
Springer Nature remains neutral with regard to jurisdictional claims in published maps and institutional affiliations.
Open Access
This article is distributed under the terms of the Creative Commons Attribution 4.0 International License (
http://​creativecommons.​org/​licenses/​by/​4.​0/​
), which permits unrestricted use, distribution, and reproduction in any medium, provided you give appropriate credit to the original author(s) and the source, provide a link to the Creative Commons license, and indicate if changes were made. The Creative Commons Public Domain Dedication waiver (
http://​creativecommons.​org/​publicdomain/​zero/​1.​0/​
) applies to the data made available in this article, unless otherwise stated.