01.12.2019 | Research article | Ausgabe 1/2019 Open Access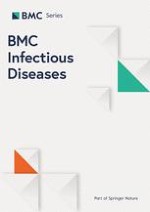 Epidemic pattern of hand-foot-and-mouth disease in Xi'an, China from 2008 through 2015
Zeitschrift:
Autoren:

JiFeng Liu, XiaoMei Xiang, ZhongShu Pu, Yong Long, Dan Xiao, WeiLu Zhang, Qian Li, XiTong Li, SiYao Li, ZhongJun Shao, XiaoLi Yang, YongMin Xiong
Abstract
Background
Hand, foot and mouth disease (HFMD) is an infectious disease caused by enteroviruses that has a severely impair for those high incidence countries such as China.The current study aimed to investigate the epidemic pattern of HFMD by time and region in Northwestern China.
Methods
All reported HFMD cases from 2008 to 2015 were collected from local Disease Control and Prevention.The HFMD was diagnosed in accordance with the guidebook provided by the National Health and Family Planning Commission of the People's Republic of China.
Results
A total of 154,869 cases of probable HFMD were reported. The overall incidence of HFMD has been increased from 91.68 per 100/000 in 2008 to 335.64 per 100/000 in 2015.The case mortality is decreased from 0.014 per100/000 to 0.011 per 100/000 during the time period. Most HFMD (93.82%) occurred in children younger than 5 years. The seasonal peak of HFMD infections occurred in April–July and September–November and Central regions of Xi'an city were the major locations of the clusters (incidence rate 245.75/100,000; relative risk 1.19,
P
 < 0.01). EVA71 was the predominant enterovirus serotype, accounting for 50.0% of all reported HFMD cases since 2011.The most susceptible group infected by HFMD was children younger than 5 years, especially boys.
Conclusions
Incidence of HFMD has been increasing in the past few years, however, the case fatality is decreasing. Season and region shall be considered as influence factors in the prevention of HFMD.