01.12.2021 | Research article | Ausgabe 1/2021 Open Access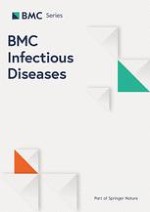 Epidemiologic characteristics of orthopedic surgical site infections and under-reporting estimation of registries using capture-recapture analysis
Zeitschrift:
Autoren:

Niloufar Taherpour, Yadollah Mehrabi, Arash Seifi, Babak Eshrati, Seyed Saeed Hashemi Nazari
Wichtige Hinweise
Publisher's Note
Springer Nature remains neutral with regard to jurisdictional claims in published maps and institutional affiliations.
Abbreviations
ECDC
European Center for Disease prevention and Control
HAIs
Health care-associated infections
HIM
Health Information Management
IPC
Infection Prevention and Control
ICCDC
Iranian Center for Communicable Disease Control
NNIS
National Nosocomial Infection Surveillance System
NHSN
National Healthcare Safety Network
ORIF
Open Reduction and Internal Fixation
SIR
Standardized Infection Ratio
WHO
World Health Organization
Background
Surgical Site Infection (SSI) is one of the most common surgical-related problems in the world, especially in developing countries [
1
]. SSI is a kind of Nosocomial Infections (NIs) - also called Health care-associated Infections (HAIs) that occur within 30 days of the procedure or in a one-year period if mechanical or prosthetic material is implanted at surgery [
2
]. SSI is responsible for mortality, long hospitalization period, and a high economic burden [
3
]. According to the past reports, the incidence rate of SSI is globally about 10–20% [
4
] and is the most frequent type of HAIs in low and middle income countries [
5
]. The most commonly reported microorganism is gram-negative
Escherichia-coli
, accounting for 6.7–50% of incidence, and the second one is gram-positive
Staphylococcus aureus
, causing SSI in procedures [
6
]. According to the European Center for Disease prevention and Control (ECDC), the percentage of SSI varies from 0.5 to 9.0%, depending on the type of procedure [
7
]. As stated by the World Health Organization (WHO), due to the limited and low quality of data in low and middle-income countries, the incidence and prevalence of SSIs are underestimated. Considering the reports of different countries, WHO estimated that the prevalence of HAI varies between 5.7 and 19.1% in low- and middle-income countries [
8
]. In Eastern Mediterranean regions, the overall prevalence of SSI was reported to be about 7.9% in 2019 [
9
]. The overall prevalence of HAI in Iran, as a middle-upper-income country, was about 4.5% in 2017, where bloodstream infections, surgical site infections, and pneumonia were the most common types of HAIs in Iran, respectively [
4
].
Due to the nature of orthopedic surgeries and special patients under this procedure with variety of conditions and disorders (older patients especially in arthroplasty surgeries, underlying diseases and penetrating trauma) the risk of surgical site infection is higher compared to other procedures. The incidence of orthopedic SSIs in Iran was 8.8% in 2018; This type of infection has been responsible for long hospitalization period and bad prognosis [
10
,
11
].
In Iran, there are two hospital information sources for registering HAIs. One of these information sources is Health Information Management (HIM) that plays a role in maintaining and collecting the medical records. In this unit, all medical and health information of patients is registered based on ICD-10 and ICD-9-CM coding system [
12
]. The second source is the National Nosocomial Infections Surveillance system (NNIS), a computer-based software, which was launched in 2011. In this Iranian surveillance system, the information of HAIs such as demographic characteristics of patients, vital status of them, Length of stay (LOS) or the duration of hospitalization, type of HAIs, device utility days, laboratory information by hospitals and wards are recorded [
13
]. Therefore, since these two sources of information do not depend on one another, some HAIs may not be detected by the NNIS. Also, owing to the lack of up-to-date instructions and the occurrence of human errors, the diagnosed HAIs may not be reported completely, which results in underestimation.
Thus, to realize the real distribution and trends of diseases in order for controlling and preventing its outcomes in the country, complete data with minimum underestimation is required. This study was conducted aiming at the estimation of the number of orthopedic SSIs from 2017 to 2018 using the capture-recapture method. At the second stage, the existing problems in NNIS among hospitals under study in Iran were reported.
Methods
This registry-based, cross-sectional study was conducted in six educational hospitals in Tehran from March, 2017 to March, 2018. First, six hospitals (over 250 beds) were randomly selected. After that, data were collected from two sources in hospitals. One of them is the information of patients infected in orthopedic surgeries from 21 March, 2017 to 21 March, 2018 - orthopedic SSIs were based on the health information management (HIM) reporting. The second one was the orthopedic SSIs which were based on National Nosocomial Infections Surveillance system (NNIS) registries in each six mentioned hospitals. Overall, we collected 262 and 241 identical codes of SSIs from HIM and NNIS, respectively from 2017 to 2018 (
N
 = 503, after the exclusion of duplicates) Fig.
1
. Five hundred-three SSIs were used for estimating the orthopedic SSIs population size using two- sources capture-recapture method. After that, from 503 identical codes, 202 medical records of orthopedic SSIs were randomly selected in order for monitoring the orthopedic SSI patients` characteristics.
×
Two-source capture-recapture
In ecologic and epidemiologic studies, capture-recapture sampling is a method used to estimate the completeness of ascertainment of disease registers and estimate the unknown size of a population [
14
]. We used a less biased alternative estimator of population size which is given by the Chapman estimator [
15
,
16
]. Also, categorical data (as frequencies and percentages) and quantitative data (median and interquartile range (IQR)) were calculated. To describe and compare subjects, T-test, Mann-Whitney and Chi-square (χ2) tests at significant level of < 0.05 were used. Data analysis was carried out using STATA.14 software.
Results
According to the results obtained from capture-recapture estimation, about 221 of SSIs were not detected by two sources in six hospitals and the real number of SSIs were estimated to be 623 ± 36.58 (95% CI, 552–695). Furthermore, the completeness percentages of HIM and NNIS based on the capture-recapture method were 42.05 and 38.68%, respectively and under-reporting was 63.32%. This indicates the completeness of SSI registries was low, and about half of the cases were missed among the respective six hospitals in Tehran from 2017 to 2018.
Discussion
Some limitations of the current study should be noted. First, because of the lack of time and the large number of hospitals, we could not conduct a study on all educational hospitals in Tehran province. Second, since private hospitals did not cooperate, we conducted this study in six educational hospitals in Tehran.
Conclusion
In order for knowing the trends of mortality and morbidity in hospitals and in country also for aiding health care services for planning prevention strategy, it is important to have access to a registry with minimum underestimated data. Hence, according to the moderate coverage of NNIS and HIM data sources among Iranian hospitals, it is highly necessary to promote the national Infection Prevention and Control (IPC) programs and to provide updated protocols.
Acknowledgments
The authors would like to thank the research development office of six educational hospitals in Tehran province, and also Iranian Center for Communicable Disease Control (ICCDC) in the Ministry of Health and Medical Education which participated in this project and provided us with their services.
Ethics approval and consent to participate
This article is adapted from a master's thesis in Epidemiology. The ethical approval was granted from the ethics committee and review board of the school of Public Health and Neuroscience Research Center (PHNS), Shahid Beheshti University of Medical Sciences (SBMU), Tehran, Iran (IR.SBMU.PHNS.REC.1398.101). Permission to access the raw data was granted by the Iranian Center for Communicable Disease Control (ICCDC) in the Ministry of Health and Medical Education and six hospitals affiliated to Tehran, Iran and Shahid- Beheshti university of medical sciences. The data of all cases was anonymized and was extracted with removal of identifiable information. The requirement for informed consent from participants was waived because of the registry-based nature of the study.
Consent for publication
Not applicable.
Competing interests
The authors declare that they have no competing interests.
Open Access
This article is licensed under a Creative Commons Attribution 4.0 International License, which permits use, sharing, adaptation, distribution and reproduction in any medium or format, as long as you give appropriate credit to the original author(s) and the source, provide a link to the Creative Commons licence, and indicate if changes were made. The images or other third party material in this article are included in the article's Creative Commons licence, unless indicated otherwise in a credit line to the material. If material is not included in the article's Creative Commons licence and your intended use is not permitted by statutory regulation or exceeds the permitted use, you will need to obtain permission directly from the copyright holder. To view a copy of this licence, visit
http://​creativecommons.​org/​licenses/​by/​4.​0/​
. The Creative Commons Public Domain Dedication waiver (
http://​creativecommons.​org/​publicdomain/​zero/​1.​0/​
) applies to the data made available in this article, unless otherwise stated in a credit line to the data.
Publisher's Note
Springer Nature remains neutral with regard to jurisdictional claims in published maps and institutional affiliations.