01.12.2018 | Research article | Ausgabe 1/2018 Open Access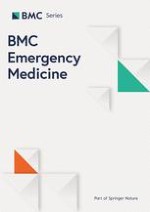 Epidemiological and clinical profiles of acute poisoning in patients admitted to the intensive care unit in eastern Iran (2010 to 2017)
Zeitschrift:
Autoren:

Omid Mehrpour, Ayob Akbari, Firoozeh Jahani, Alireza Amirabadizadeh, Elaheh Allahyari, Borhan Mansouri, Patrick C. Ng
Abstract
Background
Acute poisoning is a common chief complaint leading to emergency department visits and hospital admissions in developing countries such as Iran. Data describing the epidemiology of different poisonings, characteristics of the clinical presentations, and the predictors of outcome are lacking. Such data can help develop more efficient preventative and management strategies to decrease morbidity and mortality related to these poisonings. This manuscript describes the epidemiology of acute poisoning among patients admitted to the intensive care unit (ICU) in Birjand, Iran.
Methods
This retrospective, cross-sectional study was conducted to characterize acute poisonings managed in the ICU during a 7-year period from March 2010 to March 2017 in a single center in Birjand, Iran. Patient characteristics, suspected exposure, the route of exposure, and outcome data were collected from hospital medical records.
Results
During the study period, 267 (64% male and 36% female) patients met inclusion criteria. Pharmaceutical medication (36.6%), opioids (26.2%) followed by pesticides (13.9%) were the most common exposures 38.2% of these cases were identified as suicide attempts. There were different frequencies in terms of xenobiotic exposure in relation to gender (
p
 = 0.04) and the survival (
p
 = 0.001). There was a significant difference between various xenobiotics identified as the cause of poisoning (p = 0.001). Mortality rate in our study was 19.5%. The incidence of outcomes was significantly higher in patients poisoned with opioids, pesticides, benzodiazepines, and tricyclic antidepressants (
p
 < 0.05). The median length of hospital stay was higher in pesticide-poisoned patients (
p
 = 0.04).
Conclusion
Opioids and pesticides were the most common exposures. The mortality rate of the poisoned patients in the ICU was proportionately high. The mortality rate due to opioid poisoning is a major concern and the most significant cause death due to poisoning in the region. Further monitoring and characterization of acute poisoning in Birjand, Iran is needed. These data can help develop educational and preventative programs to reduce these exposures and improve management of exposures in the prehospital and hospital settings.