01.12.2013 | Debate | Ausgabe 1/2013 Open Access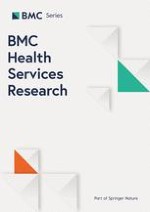 Epidemiological strategies for adapting clinical practice guidelines to the needs of multimorbid patients
Zeitschrift:
Autoren:

Eva Blozik, Hendrik van den Bussche, Felix Gurtner, Ingmar Schäfer, Martin Scherer
Wichtige Hinweise
Electronic supplementary material
The online version of this article (doi:
10.​1186/​1472-6963-13-352
) contains supplementary material, which is available to authorized users.
Competing interests
The authors declare that they have no competing interests.
Authors' contributions
All authors participated in the conception of the paper. EB drafted the manuscript. HVDB, FG, IS, and MS commented on revisions to the manuscript. All authors read and approved the final manuscript.
Abbreviations
CPG
Clinical practice guideline
EUnetHTA
European network for Health Technology Assessment
G-I-N
Guidelines International Network
ICD10
10th revision of the International Statistical Classification of Diseases and Related Health Problems
START
Screening Tool to Alert doctors to Right Treatments
STOPP
Screening Tool of Older People's potentially inappropriate Prescriptions
Background
The patients encountered in general practice, particularly those with multimorbidity, present a combination of interacting problems, which make adherence to clinical practice guidelines (CPG) and clinical decision making very difficult when recommendations cumulate across several conditions [
1
]. Nine out of ten patients seen in general practice have more than one chronic condition [
2
,
3
]. In 2005, Cynthia Boyd and colleagues illustrated the limitations of the current type of CPGs. They aggregated recommendations from relevant clinical guidelines for a hypothetical case of a 79-year-old multimorbid woman and ended up with 12 medications, prescribed in 19 partial doses, and a complicated nonpharmacological regimen [
4
]. This hypothetical case shows that the current way of designing CPGs is even associated with undesirable effects for persons with several comorbidities, and that adverse interactions between drugs and diseases, conflicting management strategies, and polypharmacy might result [
5
]. Polypharmacy exponentially increases the risk of experiencing adverse drug-drug or drug-disease interactions and is associated with adverse health outcomes such as mortality, hospitalisation, poor adherence, and geriatric syndromes (e.g. urinary incontinence, cognitive impairment, falls) [
6
–
8
].
Since the publication of Boyd's study, it is widely acknowledged that elder persons and their health problems are not adequately addressed in current mainly mono-morbidity-focused and mono-disciplinary CPGs [
5
,
9
,
10
]. Various publications came to the conclusion that most CPGs do not provide guidance on the management of patients with comorbidities, especially for discordant combinations, [
11
] and it has been claimed repeatedly that CPGs should become explicit about the applicability of their recommendations to multimorbid patients [
12
–
14
]. Recently, Guthrie and colleagues suggested three strategies for adaptation of CPGs to take account of multimorbidity: 1) cross-referencing between CPGs using electronic delivery, 2) providing the suspected magnitude of benefits and harms of medical interventions recommended in CPGs, and 3) better using the existing evidence, e.g. by modeling the effects comorbidities may have on benefits and harms of treatments [
15
]. Although these adaptations are necessary, we do not consider them to be sufficient. For example, mere cross-referencing between CPGs would become hardly manageable in the presence of more than one comorbidity. The development of new CPGs that include multimorbidity-specific information is desirable. This article presents potential methodological starting points for identifying relevant comorbidities that should be taken into account during CPG development.
Discussion
Summary
In the absence of specific recommendations for older, multimorbid patients treatment decisions are mainly based on expert opinion rather than on scientific evidence. The epidemiologic approaches described above may constitute a scientific basis for CPG developers to systematically consider disease combinations that are highly prevalent in the multimorbid population. The objective of these efforts is to identify frequent reasons for interactions and adverse events that may occur when the current type of CPG is rigorously applied in multimorbid patients, which has major implications for the weighting of benefits and harms of recommended interventions. Case vignettes selected based on epidemiologic data may present a practical link between recommendations in CPGs and the heterogenetic nature of multimorbidity in clinical practice. Given these suggestions will increase the complexity of CPG development, international collaboration and cross-reference to existing instruments should be intensified to balance the additional workload.
CPGs are not intended to replace the setting of diagnostic, therapeutic, and preventive priorities on the individual patient-doctor level. However, it is intolerable that providing health care in compliance with current CPGs might result in worse outcomes and increased cost for a huge group of vulnerable patients. Researchers, guideline developers, and funding institutions should give first priority to developing such a new type of CPGs. This will require the joint effort of all related societies and specialties.
This article is published under license to BioMed Central Ltd. This is an Open Access article distributed under the terms of the Creative Commons Attribution License (
http://​creativecommons.​org/​licenses/​by/​2.​0
), which permits unrestricted use, distribution, and reproduction in any medium, provided the original work is properly cited.
Competing interests
The authors declare that they have no competing interests.
Authors' contributions
All authors participated in the conception of the paper. EB drafted the manuscript. HVDB, FG, IS, and MS commented on revisions to the manuscript. All authors read and approved the final manuscript.