28.08.2018 | Clinical Paper | Ausgabe 2/2019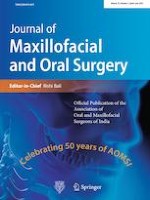 Epidemiological Study of the Socioeconomic Impact of Mandible Fractures in a Spanish Tertiary Hospital: Review of the Literature
Zeitschrift:
Autoren:

Úrsula M. Jariod Ferrer, Sara Blanco Sanfrutos, Marina A. Gavin Clavero, Maria Victoria Simon Sanz, Tomas Uson Bouthelier, Bartolomeu Nadal Cristobal
Abstract
Introduction
Mandibles fractures are one of the most frequent pathologies treated in an Oral and Maxillofacial Department and represent a serious public health problem.
Materials and Methods
We present a retrospective study of patients treated for mandible fractures by the Oral and Maxillofacial Surgery Department in a Spanish tertiary hospital during 2010–2012.
Results
One hundred and thirty-nine patients with 201 mandible fracture sites were assisted in our department; 15% were female and 85% were male, with a male-to-female ratio of 5.5:1. The observed mean age was 35 years with a range between 15 and 89 years. The most frequent etiology of fractures was the assault (43%) followed by falls (32%). The most common fracture site was the mandibular angle (35%), followed by the parasymphysis (30%). Concerning combined fractures (60%), the most repeated association was the angle and the parasymphysis. The principal imaging test for diagnosis was the orthopantomography. The intermaxillary fixation was performed in the 25% of cases, and the rest of mandible fractures were fixed by osteosynthesis. The surgical treatment had an average of 4.2 days after the trauma, and the mean time of hospitalization was 6.5 days.
Conclusion
The principal aim of the treatment of mandible fractures is to restore the function of the patient occlusion. A malocclusion after surgery may decrease the patient quality of life, so a correct fracture reduction could shrink health spending. After the result shown in the present study, the social education should be improved in the developed countries with the objective of decline in the amount of aggressiveness.