01.12.2016 | Guidelines article | Ausgabe 1/2016 Open Access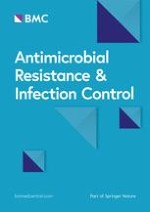 Epidemiology and molecular characterization of multidrug-resistant Gram-negative bacteria in Southeast Asia
Zeitschrift:
Autoren:

Nuntra Suwantarat, Karen C. Carroll
Wichtige Hinweise
Competing interests
Both authors declare that they have no competing interests.
Authors' contributions
NS designed, drafted the manuscript. KC reviewed and revised the manuscript. Both authors read and approved the final manuscript.
Abstract
Background
Multidrug-resistant Gram-negative bacteria (MDRGN), including extended-spectrum β-lactamases (ESBLs) and multidrug-resistant glucose-nonfermenting Gram-negative bacilli (nonfermenters), have emerged and spread throughout Southeast Asia.
Methods
We reviewed and summarized current critical knowledge on the epidemiology and molecular characterization of MDRGN in Southeast Asia by PubMed searches for publications prior to 10 March 2016 with the term related to "MDRGN definition" combined with specific Southeast Asian country names (Thailand, Singapore, Malaysia, Vietnam, Indonesia, Philippines, Laos, Cambodia, Myanmar, Brunei).
Results
There were a total of 175 publications from the following countries: Thailand (77), Singapore (35), Malaysia (32), Vietnam (23), Indonesia (6), Philippines (1), Laos (1), and Brunei (1). We did not find any publications on MDRGN from Myanmar and Cambodia. We did not include publications related to
Shigella
spp.,
Salmonella
spp., and Vibrio spp. and non-human related studies in our review. English language articles and abstracts were included for analysis. After the abstracts were reviewed, data on MDRGN in Southeast Asia from 54 publications were further reviewed and included in this study.
Conclusions
MDRGNs are a major contributor of antimicrobial-resistant bacteria in Southeast Asia. The high prevalence of ESBLs has been a major problem since 2005 and is possibly related to the development of carbapenem resistant organisms in this region due to the overuse of carbapenem therapy. Carbapenem–resistant
Acinetobacter baumannii
is the most common pathogen associated with nosocomial infections in this region followed by carbapenem-resistant
Pseudomonas aeruginosa
. Although Southeast Asia is not an endemic area for carbapenem-resistant
Enterobacteriaceae
(CRE), recently, the rate of CRE detection has been increasing. Limited infection control measures, lack of antimicrobial control, such as the presence of active antimicrobial stewardship teams in the hospital, and outpatient antibiotic restrictions, and travel throughout this region have likely contributed to the increase in MDRGN prevalence.