01.12.2010 | Ausgabe 6/2010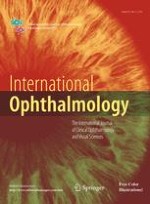 Epidemiology and sociodemographic aspects of ocular traumatic injuries in Iran
Zeitschrift:
Autoren:

Alireza Keshtkar Jafari, Faramarz Anvari, Ahmad Ameri, Shima Bozorgui, Nooshin Shahverdi
Abstract
Although the incidence of ocular trauma has been clearly described in developed countries, few published data are available on the epidemiology and the effects of parameters that can influence the incidence and severity of ocular injuries in Iran. The present study tried to determine epidemiological aspects of ocular traumatic injuries and evaluate their effects on different types of ocular injury. The case series included 1950 consecutive patients with acute ophthalmic trauma presented to the emergency ward of Farabi Hospital in Tehran. Information was collected by interviewing patients and having them fill in a questionnaire. The final diagnosis was made by a medical resident. If there was a difficulty or doubt in diagnosis or classification, confirmation of diagnosis was made by senior faculty. Ocular injuries were classified into globe and non-globe injuries according to the site of injury. Mechanical globe injuries were classified according to Birmingham Eye Trauma Terminology (BETT) into closed and open injuries. The mean age of patients was 28.8 ± 12.8 years; 87.6% were male. The most common causes of injury were work-related (49.0%) and chance events (42.0%). The most frequent ocular injury was globe injury (95.6%), including mechanical (77.6% closed and 5.9% open), chemical (7.6%), photic (2.3%) and thermal (2.2%) injuries. Non-globe injury also occurred in 10.8% of patients; both globe and non-globe injuries occurred in 6.5% of patients. The hospitalization rate in all patients was 8.8%. Previous history of eye trauma was significantly more common in the group with isolated globe injuries (
P
< 0.001). History of eye trauma is a risk factor for globe injuries and female gender is a risk factor only for non-globe injuries. These two factors may predict future eye injury and increase its risk by 5.2 and 1.6 times, respectively.