01.09.2009 | Ausgabe 9/2009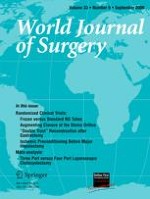 Epidemiology of Injuries at a Tertiary Care Center in Malawi
Zeitschrift:
Autoren:

Jonathan C. Samuel, Adesola Akinkuotu, Andres Villaveces, Anthony G. Charles, Clara N. Lee, Irving F. Hoffman, William C. Miller, Paul Baloyi, Mariah Hoffman, Lillian B. Brown, Arturo P. Muyco
Abstract
Background
Injury surveillance is an ongoing process required for primary, secondary, and tertiary injury prevention. In Malawi, hospital-based injury data are not available.
Methods
From February to June 2008 we collected data on injured patients presenting to Kamuzu Central Hospital in Lilongwe, Malawi. The sample (
n
= 1,474) was predominantly male (75.7%), and age distribution was bimodal (peak age groups <5 years and 26–30 years). Road-traffic injury (RTI) was the most common reason for treatment (43.4%), followed by assault (24.0%), which was more common than expected. The most common injuries were lacerations, contusions, and abrasions. We observed both gender- and age-specific patterns in injury mechanism: Injured females were more likely than injured males to have suffered an injury as a passenger in a car or on a bicycle, or to have suffered from falls, foreign bodies, and burns; injured males were more likely than injured females to have suffered an injury as an automobile driver or bicyclist, or from an assault. Falls, burns, and foreign bodies affected younger victims, whereas bicyclists, automobile drivers, and motorcycle operators were generally older persons.
Results
The hospital admission rate was 26.8%. Most patients arrived by private vehicle (43.8%), which was also the fastest means of transportation. There were 25 mass casualties leading to 102 admissions; all but one were due to RTIs, and seven were associated with at least one fatality.
Conclusions
This study elucidated injury epidemiology in Malawi and identified questions for future research. Other developing countries should conduct such prospective data collection to identify region-specific injury patterns and to promote injury prevention.