01.12.2015 | Research article | Ausgabe 1/2015 Open Access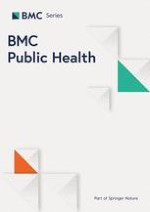 Epidemiology of non-fatal injuries among Egyptian children: a community-based cross-sectional survey
Zeitschrift:
Autoren:

Eman Fawzy Halawa, Abeer Barakat, Hoda Ibrahim Ibrahim Rizk, Eman Mohamed Ibraheim Moawad
Wichtige Hinweise
Competing interests
The authors declare that they have no competing interests.
Authors' contribution
EH carried out study design and coordination, analysis of the data, interpretation of the results and drafting the manuscript. AB participated in study design, data entry, analysis and interpretation. HI participated in data entry, quality check, data analysis and participated in interpretation of results and drafting methodology. EM participated in statistical analysis, interpretation of the results and wrote the manuscript. All authors read and approved the final manuscript.
Abstract
Background
Injuries are a major cause of childhood morbidity and mortality worldwide. We aimed to determine the magnitude and characteristics of child injuries in Egypt and to identify the associated risk factors.
Methods
A community-based, cross-sectional survey was conducted over 27 Egyptian governorates from June to October, 2011. The target population was 1977 households with children aged 0–18 years who had experienced accidental injuries.
Results
In the 6-month period before the investigation, 1576 injuries were reported in 1472 children from a sample population of 1399 households (response rate 70.8 %). Falls (25 %) and burn injuries (20.3 %) were the most common accidental injuries. The incidence of these injuries was significantly higher among boys (57.2 %) than girls and in children aged 2–6 years (70 %) compared with older and younger children. The five main causes of injuries were wounds (30.6 %), fractures (28.7 %), burns (20.3 %), swallowing a foreign body (8.4 %) and accidentally ingesting a poison (7.8 %). Injuries from drowning (n = 27), animal bites (n = 22) and sunstroke (n = 20) mostly occurred in rural children, accounting for 65 %, 54.4 % and 52 %, respectively, of all injuries in rural children. Home and its immediate surroundings (64.4 %) was the most common setting for injuries. Maternal age, education and working status were also associated with childhood injuries (p < 0.05). Children of second and third birth order were at higher risk for injuries (p < 0.0001).
Conclusions
Childhood injuries account for a substantial healthcare burden in Egypt. Our findings emphasise the importance of developing national preventive programs designed to reduce the incidence of childhood injuries.