01.12.2014 | Research | Ausgabe 1/2014 Open Access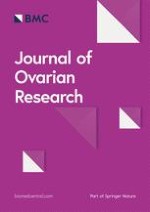 Epidermal growth factor induces platelet-activating factor production through receptors transactivation and cytosolic phospholipase A2 in ovarian cancer cells
Zeitschrift:
Autoren:

Yi Yu, Xiaoyan Zhang, Shanshan Hong, Mingxing Zhang, Qingqing Cai, Wei Jiang, Congjian Xu
Wichtige Hinweise
Electronic supplementary material
The online version of this article (doi:
10.​1186/​1757-2215-7-39
) contains supplementary material, which is available to authorized users.
Competing interest
The authors indicated that they have no conflicts of interests with regard to the content of this paper.
Authors' contributions
YY performed the experiments and drafted the manuscript. XYZ and SSH participated in the design of this study. MXZ and QQC participated in the experiments. WJ and CJX contributed to the design of this study, final data analysis and edited the manuscript. All authors read and approved the final manuscript.
Abstract
Background
Among the pro-inflammatory lipid mediators, platelet-activating factor (PAF) is a major primary and secondary messenger that binds to the PAF-receptor (PAFR). Epidermal growth factor (EGF) is a polypeptide growth factor that binds to the EGF-receptor (EGFR). Evidence suggests that both PAF and EGF play a significant role in oncogenic transformation, tumor growth, neoangiogenesis and metastasis, including ovarian cancer. PAF has the potential to transactivate EGFR in ovarian cancer cells. This study explores the mechanisms involved in EGF-induced PAF production.
Methods
The effect of EGF on PAF production in ovarian cancer cells was observed using enzyme-linked immunosorbent assay. The receptors transactivation and the role of cytosolic phospholipase A2 (cPLA2) in modulating PAF production induced by EGF was assessed using pharmacological inhibitors, si-RNA knockdown, targeted gene overexpression and immunocytochemistry. The signaling pathways invovled in PAF production induced by EGF in ovarian cancer cells were assessed.
Results
We demonstrate that EGF increases the production of PAF in CAOV3 and SKOV3 ovarian cancer cell lines. EGF induces the transactivation of PAFR, which can be blocked by an EGFR inhibitor. Inhibition of EGFR and/or PAFR blocks PAF production in response to EGF. EGF-induced PAF production involves the phosphorylation of extracellular-regulated protein kinase (ERK) and cytosolic phospholipase A2 (cPLA2). A cPLA2 inhibitor blocks EGF-induced PAF production as well as si-cPLA2, while overexpression of cPLA2 increases PAF production.
Conclusions
These results indicate that EGF stimulates PAF production in ovarian cancer cells in a manner that requires cPLA2. We have also determined that crosstalk can occur bidirectionally between EGFR and PAFR, suggesting that EGF-induced PAF production could result in positive feedback that acts on the PAF-receptor to promote ovarian cancer progression.