01.12.2015 | Research article | Ausgabe 1/2015 Open Access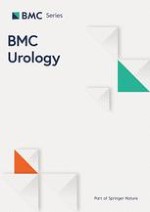 Epididymal anomalies in boys with undescended testis or hydrocele: Significance of testicular location
Zeitschrift:
Autoren:

Sun-Ouck Kim, Seong Woong Na, Ho Song Yu, Dongdeuk Kwon
Wichtige Hinweise
Competing interests
The authors declare no competing interests.
Authors' information
Sun-Ouck Kim, Seong Woong Na, Ho Song Yu, and Dongdeuk Kwon
Department of Urology, Chonnam National University Medical School, Gwangju, Korea.
Authors' contributions
SOK help conceive and design the study and drafted the manuscript. SWN collected the data and performed the statistical analyses. HSY assisted with conception and design of the study. DDK conceived and supervised the study and helped draft the manuscript. All authors have read and approved the final version of the manuscript.
Abstract
Background
Epididymal anomalies and patent processus vaginalis are frequently found in boys with cryptorchidism or hydrocele. We conducted this study to evaluate the association between epididymal anomalies and testicular location or patent processus vaginalis in boys with undescended testis or hydrocele.
Methods
Children undergoing surgery with undescended testis (group A, 136 boys and 162 testes) or communicating hydrocele (group B, 93 boys and 96 testes) were included. Testicular locations and epididymal anomalies were investigated prospectively. An anomalous epididymis was defined as anomalies of epididymal fusion that consisted of loss of continuity between the testis, the epididymis, and the long looping epididymis. The epididymis was considered normal when a normal, firm attachment between the testis, the caput, and the cauda epididymis was present.
Results
The mean ages of groups A and B were 24.6 ± 19.7 (range, 8–52 months) and 31.4 ± 20.6 months (range, 10–59 months). The incidence of epididymal anomalies was significantly higher in group A than that in group B (65.4 % vs. 13.5 %,
P
 < 0.001). The incidence of epididymal anomalies in boys with undescended testis was significantly different according to testis location. Epididymal anomalies were observed in 100 %, 91.4 %, and 39.3 % of cases when the testis was located in the abdomen, inguinal canal, and distal to the external inguinal ring, respectively (
P
 < 0.001).
Conclusion
We conclude that epididymal anomalies were more frequent in boys with undescended testis than in boys with hydrocele, and that these anomalies were more frequent when undescended testis was at a higher level. These results suggest that testicular location is associated with epididymal anomalies rather than patent processus vaginalis.