01.12.2017 | Research | Ausgabe 1/2017 Open Access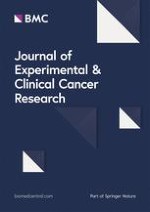 Epigenetic mediated zinc finger protein 671 downregulation promotes cell proliferation and tumorigenicity in nasopharyngeal carcinoma by inhibiting cell cycle arrest
Zeitschrift:
Autoren:

Jian Zhang, Xin Wen, Na Liu, Ying-Qin Li, Xin-Ran Tang, Ya-Qin Wang, Qing-Mei He, Xiao-Jing Yang, Pan-Pan Zhang, Jun Ma, Ying Sun
Wichtige Hinweise
Electronic supplementary material
Abstract
Background
Epigenetic abnormalities play important roles in nasopharyngeal cancer (NPC), however, the epigenetic changes associated with abnormal cell proliferation remain unclear.
Methods
We detected epigenetic change of
ZNF671
in NPC tissues and cell lines by bisulfite pyrosequencing. We evaluated zinc finger protein 671 (
ZNF671
) expression in NPC cell lines and clinical tissues using real-time PCR and western blotting. Then, we established NPC cell lines that stably overexpressed
ZNF671
and knocked down
ZNF671
expression to explore its function in NPC in vitro and in vivo. Additionally, we investigated the potential mechanism of
ZNF671
by identifying the mitotic spindle and G2/M checkpoint pathways pathway downstream genes using gene set enrichment analysis, flow cytometry and western blotting.
Results
ZNF671
was hypermethylated in NPC tissues and cell lines. The mRNA and protein expression of
ZNF671
was down-regulated in NPC tissues and cell lines and the mRNA expression could be upregulated after the demethylation agent 5-aza-2′-deoxycytidine treatment. Overexpression of
ZNF671
suppressed NPC cell proliferation and colony formation in vitro; silencing
ZNF671
using a siRNA had the opposite effects. Additionally, overexpression of
ZNF671
reduced the tumorigenicity of NPC cells in xenograft model in vivo. The mechanism study determined that overexpressing
ZNF671
induced S phase arrest in NPC cells by upregulating p21 and downregulating cyclin D1 and c-myc.
Conclusions
Epigenetic mediated zinc finger protein 671 downregulation promotes cell proliferation and enhances tumorigenicity by inhibiting cell cycle arrest in NPC, which may represent a novel potential therapeutic target.