12.01.2019 | Systemic Diseases (N Buduneli, Section Editor) | Ausgabe 1/2019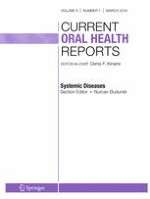 Epigenetics, Inflammation, and Periodontal Disease
Zeitschrift:
Autoren:

Manjunatha R. Benakanakere, Livia Finoti, Daniela B. Palioto, Hellen S. Teixeira, Denis F. Kinane
Wichtige Hinweise
This article is part of the Topical Collection on
Systemic Diseases
Publisher's Note
Springer Nature remains neutral with regard to jurisdictional claims in published maps and institutional affiliations.
Abstract
Purpose of the Review
The purpose is to provide current knowledge and recent development and understanding of periodontal disease dysbiosis in the perspective of epigenetic changes. Epigenetic changes, where environmental factors modify the gene expression network without changing the DNA sequence, may influence inflammatory diseases such as chronic periodontitis. These chemical modifications of DNA and histone proteins cause epigenetic changes that alter cellular function and host defenses.
Recent Findings
Findings suggest that the methylation of cytosine residues on DNA particularly at CpG Islands is commonly associated with gene silencing, and covalent modifications on histones are associated with chromatin structural integrity and function that play crucial roles in gene expression. In periodontal immune dysbiosis, aberrant DNA methylation and/or histone modifications could potentially play a role in disease state.
Summary
We broadly discuss epigenetic modifications related to immune regulation and comprehensively discuss recent developments in the dynamics of epigenetic changes pertaining to chronic inflammatory periodontal disease.