01.08.2011 | Translational Research and Biomarkers | Ausgabe 8/2011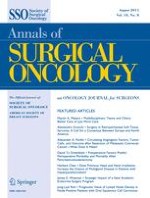 Epigenomic Analysis of Aberrantly Methylated Genes in Colorectal Cancer Identifies Genes Commonly Affected by Epigenetic Alterations
Zeitschrift:
Autoren:

MD, PhD Young-Ho Kim, PhD Han Cheol Lee, PhD Seon-Young Kim, PhD Young Il Yeom, MSc Kyung Ju Ryu, MD, PhD Byung-Hoon Min, MD, PhD Duk-Hwan Kim, MD, PhD Hee Jung Son, MD, PhD Poong-Lyul Rhee, MD, PhD Jae J. Kim, MD, PhD Jong Chul Rhee, MD, PhD Hee Cheol Kim, MD, PhD Ho-Kyung Chun, MD, PhD William M. Grady, PhD Yong Sung Kim
Wichtige Hinweise
Electronic supplementary material
The online version of this article (doi:
10.​1245/​s10434-011-1573-y
) contains supplementary material, which is available to authorized users.
Abstract
Background
Determination of the profile of genes that are commonly methylated aberrantly in colorectal cancer (CRC) will have substantial value for diagnostic and therapeutic applications. However, there is limited knowledge of the DNA methylation pattern in CRC.
Materials and Methods
We analyzed the methylation profile of 27,578 CpG sites spanning more than 14,000 genes in CRC and in the adjacent normal mucosa with bead-chip array-based technology.
Results
We identified 621 CpG sites located in promoter regions and CpG islands that were greatly hypermethylated in CRC compared to normal mucosa. The genes on chromosome 18 showed promoter hypermethylation most frequently. According to gene ontology analysis, the most common biologically relevant class of genes affected by methylation was the class associated with the cadherin signaling pathway. Compared to the genome-wide expression array, mRNA expression was more likely to be downregulated in the genes demonstrating promoter hypermethylation, even though this was not statistically significant. We validated ten CpG sites that were hypermethylated (
ADHFE1
,
BOLL
,
SLC6A15
,
ADAMTS5
,
TFPI2
,
EYA4
,
NPY
,
TWIST1
,
LAMA1
,
GAS7
) and 2 CpG sites showing hypomethylation (
MAEL
,
SFT2D3
) in CRC compared to the normal mucosa in the array studies using pyrosequencing. The methylation status measured by pyrosequencing was consistent with the methylation array data.
Conclusions
Methylation profiling based on bead-chip arrays is an effective method for screening aberrantly methylated genes in CRC. In addition, we identified novel methylated genes that are candidate diagnostic or prognostic markers for CRC.