01.06.2010 | Ausgabe 2/2010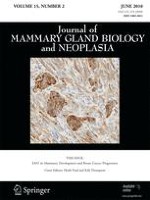 Epithelial Mesenchymal Transition Traits in Human Breast Cancer Cell Lines Parallel the CD44hi/CD24lo/- Stem Cell Phenotype in Human Breast Cancer
Zeitschrift:
Autoren:

Tony Blick, Honor Hugo, Edwin Widodo, Mark Waltham, Cletus Pinto, Sendurai A. Mani, Robert A. Weinberg, Richard M. Neve, Marc E. Lenburg, Erik W. Thompson
Wichtige Hinweise
Electronic supplementary material
The online version of this article (doi:
10.​1007/​s10911-010-9175-z
) contains supplementary material, which is available to authorized users.
Abstract
We review here the recently emerging relationship between epithelial-mesenchymal transition (EMT) and breast cancer stem cells (BCSC), and provide analyses of published data on human breast cancer cell lines, supporting their utility as a model for the EMT/BCSC state. Genome-wide transcriptional profiling of these cell lines has confirmed the existence of a subgroup with mesenchymal tendencies and enhanced invasive properties ('Basal B'/Mesenchymal), distinct from subgroups with either predominantly luminal ('Luminal') or mixed basal/luminal ('Basal A') features (Neve et al. Cancer Cell, 2006). A literature-derived EMT gene signature has shown specific enrichment within the Basal B subgroup of cell lines, consistent with their over-expression of various EMT transcriptional drivers. Basal B cell lines are found to resemble BCSC, being CD44highCD24low. Moreover, gene products that distinguish Basal B from Basal A and Luminal cell lines (Basal B Discriminators) showed close concordance with those that define BCSC isolated from clinical material, as reported by Shipitsin et al. (Cancer Cell, 2007). CD24 mRNA levels varied across Basal B cell lines, correlating with other Basal B Discriminators. Many gene products correlating with CD24 status in Basal B cell lines were also differentially expressed in isolated BCSC. These findings confirm and extend the importance of the cellular product of the EMT with Basal B cell lines, and illustrate the value of analysing these cell lines for new leads that may improve breast cancer outcomes. Gene products specific to Basal B cell lines may serve as tools for the detection, quantification, and analysis of BCSC/EMT attributes.