13.02.2018 | Original Research | Ausgabe 1/2018 Open Access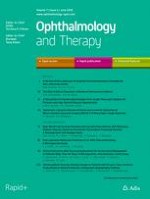 Eplerenone Versus Observation in the Treatment of Acute Central Serous Chorioretinopathy: A Retrospective Controlled Study
Zeitschrift:
Autoren:

Ilaria Zucchiatti, Riccardo Sacconi, Maria Cristina Parravano, Eliana Costanzo, Lea Querques, Daniela Montorio, Francesco Bandello, Giuseppe Querques
Abstract
Introduction
To investigate the effects of eplerenone compared to observation in the treatment of acute central serous chorioretinopathy (CSC).
Methods
Charts of consecutive patients with a diagnosis of acute CSC (visual symptoms < 12 weeks) were reviewed. Included patients were divided into a treatment group (treated with eplerenone) and a control group (observation). Main outcome measures included changes in best-corrected visual acuity (BCVA), central macular thickness (CMT), height of subretinal fluid (SRF) and subfoveal choroidal thickness (CT) at 1 and 3 months in the two groups.
Results
Fifteen eyes of 15 patients (2 female, 13 male) and 12 eyes of 12 patients (1 female, 11 male [
p
= 1.000]) were included in the treatment and control groups, respectively. The mean age was 44 ± 9 (30–65) and 47 ± 11 years (28–66 years,
p
= 0.493), respectively. In the treatment group, BCVA improved significantly at 1 month (
p
= 0.018) and 3 months of follow-up (
p
= 0.011), while a non-significant improvement was seen in the control group. At 3 months, 12 of 15 eyes (80%) in the treatment group demonstrated complete SRF resolution, versus 3 of 12 eyes (25%) in the control group (
p
= 0.007). In the treatment group, SRF and CMT were significantly reduced at the 1-month follow-up (
p
= 0.014,
p
= 0.028, respectively) and the 3-month follow-up (
p
< 0.001 for both analyses), while in the control group the changes were not statistically significant. Eplerenone was well tolerated in all patients.
Conclusion
Patients affected by acute CSC treated with eplerenone achieved greater and faster resolution of the disease compared to the observation group. Eplerenone may represent an attractive new first-line treatment option for acute CSC.