01.12.2014 | Research | Ausgabe 1/2014 Open Access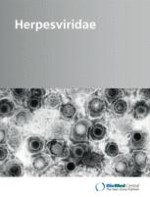 Epstein-Barr virus IL-10 gene expression by a recombinant murine gammaherpesvirus
in vivo

enhances acute pathogenicity but does not affect latency or reactivation
Zeitschrift:
Autoren:

Gary J Lindquester, Kimberly A Greer, James P Stewart, Jeffery T Sample
Wichtige Hinweise
Electronic supplementary material
The online version of this article (doi:
10.​1186/​2042-4280-5-1
) contains supplementary material, which is available to authorized users.
Competing interests
The authors declare that they have no competing of interest.
Authors' contributions
GL conceived of the study; GL, JPS and JTS designed the study. KG helped generate recombinant herpesviruses and conducted growth curve experiments and animal studies. GL coordinated all and conducted many of the experiments and wrote the manuscript. All authors have approved the final manuscript.
Abstract
Background
Many viral genes affect cytokine function within infected hosts, with interleukin 10 (IL-10) as a commonly targeted mediator. Epstein-Barr virus (EBV) encodes an IL-10 homologue (vIL-10) expressed during productive (lytic) infection and induces expression of cellular IL-10 (cIL-10) during latency. This study explored the role of vIL-10 in a murine gammaherpesvirus (MHV) model of viral infection.
Methods
The EBV vIL-10 gene was inserted into MHV-76, a strain which lacks the ability to induce cIL-10, by recombination in transfected mouse cells. Mice were infected intranasally with the recombinant, vIL-10-containing MHV-76 or control virus strains and assayed at various days post infection for lung virus titer, spleen cell number, percentage of latently infected spleen cells and ability to reactivate virus from spleen cells.
Results
Recombinant murine gammaherpesvirus expressing EBV vIL-10 rose to significantly higher titers in lungs and promoted an increase in spleen cell number in infected mice in comparison to MHV strains lacking the vIL-10 gene. However, vIL-10 expression did not alter the quantity of latent virus in the spleen or its ability to reactivate.
Conclusions
In this mouse model of gammaherpesvirus infection, EBV vIL-10 appears to influence acute-phase pathogenicity. Given that EBV and MHV wild-type strains contain other genes that induce cIL-10 expression in latency (e.g. LMP-1 and M2, respectively), vIL-10 may have evolved to serve the specific role in acute infection of enlarging the permissive host cell population, perhaps to facilitate initial survival and dissemination of viral-infected cells.