04.03.2019 | Preclinical study | Ausgabe 2/2019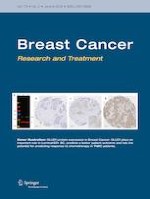 ERα upregulates the expression of long non-coding RNA
LINC00472

which suppresses the phosphorylation of NF-κB in breast cancer
Zeitschrift:
Autoren:

Zhanwei Wang, Dionyssios Katsaros, Nicoletta Biglia, Yi Shen, Lenora Loo, Xiao Yu, Hongyan Lin, Yuanyuan Fu, Wen-Ming Chu, Peiwen Fei, Yan Ni, Wei Jia, Xiaobei Deng, Biyun Qian, Herbert Yu
Wichtige Hinweise
Electronic supplementary material
Abstract
Purpose
Low expression of long intergenic non-coding RNA
LINC00472
in breast cancer is associated with aggressive tumors and unfavorable disease outcomes in multiple clinical datasets, but the reasons for these associations were unknown.
Methods
To study the mechanisms underlying the lncRNA's connection to breast cancer, we investigated the molecular targets and regulation of
LINC00472
in breast cancer cells, and analyzed relevant molecular features in relation to patient survival. Gene expression profiles of breast cancer cells overexpressing
LINC00472
were analyzed for its regulatory pathways and downstream targets. Effects of
LINC00472
overexpression on cell behaviors were evaluated in vitro and in vivo. Meta-analysis was performed using online datasets and our own study.
Results
Analysis of
LINC00472
transcriptome revealed ERα upregulation of
LINC00472
expression, and an ERα-binding site in the
LINC00472
promoter was identified. Evaluation of
LINC00472
overexpression also indicated a possible link between
LINC00472
and NF-κB. Cell experiments confirmed that
LINC00472
suppressed the phosphorylation of p65 and IκBα through binding to IKKβ, inhibiting its phosphorylation. High
LINC00472
expression inhibited tumor growth both in vitro and in vivo and suppressed aggressive tumor cell behaviors in vitro. Suppressing
LINC00472
expression in ER-positive tumor cells increased cell aggressive behaviors. Tamoxifen treatment of ER-positive cells inhibited ERα and
LINC00472
expression and increased p65 and IκBα phosphorylation. Meta-analysis showed that
LINC00472
expression were higher in ER-positive than ER-negative tumors and that high expression was associated with better disease outcomes in ER-positive patients.
Conclusions
The study demonstrates that ERα upregulates
LINC00472
which suppresses the phosphorylation of NF-κB, and suggests that endocrine treatment may lower
LINC00472
and increase NF-κB activities, leading to tumor progression and disease recurrence.