19.03.2020 | Original Contributions | Ausgabe 7/2020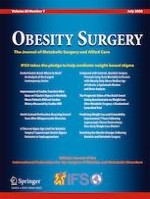 Erosive Esophagitis and Symptoms of Gastroesophageal Reflux Disease in Patients with Morbid Obesity with and without Type 2 Diabetes: a Cross-sectional Study
Zeitschrift:
Autoren:

Jolanta Lorentzen, Asle W. Medhus, Jens Kristoffer Hertel, Heidi Borgeraas, Tor-Ivar Karlsen, Ronette L. Kolotkin, Rune Sandbu, Daniel Sifrim, Marius Svanevik, Dag Hofsø, Birgitte Seip, Jøran Hjelmesæth
Wichtige Hinweise
Birgitte Seip and Jøran Hjelmesæth shared senior authorship and contributed equally to this work
Publisher's Note
Springer Nature remains neutral with regard to jurisdictional claims in published maps and institutional affiliations.
Abstract
Background
Type 2 diabetes (T2DM) is associated with gastroesophageal reflux disease (GERD) in the general population, but the relationship between these conditions in candidates for bariatric surgery is uncertain. We compared the prevalence of GERD and the association between GERD symptoms and esophagitis among bariatric candidates with and without T2DM.
Methods
Cross-sectional study of baseline data from the Oseberg study in Norway. Both groups underwent gastroduodenoscopy and completed validated questionnaires: Gastrointestinal Symptom Rating Scale and Gastroesophageal Reflux Disease Questionnaire. Participants with T2DM underwent 24-h pH-metry.
Results
A total of 124 patients with T2DM, 81 women, mean (SD) age 48.6 (9.4) years and BMI 42.3 (5.5) kg/m
2
, and 64 patients without T2DM, 46 women, age 43.0 (11.0) years and BMI 43.0 (5.0) kg/m
2
, were included. The proportions of patients reporting GERD-symptoms were low (< 29%) and did not differ significantly between groups, while the proportions of patients with esophagitis were high both in the T2DM and non-T2DM group, 58% versus 47%,
p
 = 0.16. The majority of patients with esophagitis did not have GERD-symptoms (68–80%). Further, 55% of the patients with T2DM had pathologic acid reflux. Among these, 71% also had erosive esophagitis, whereof 67% were asymptomatic.
Conclusions
The prevalence of GERD was similar in bariatric patients with or without T2DM, and the proportion of patients with asymptomatic GERD was high independent of the presence or absence of T2DM. Accordingly, GERD may be underdiagnosed in patients not undergoing a preoperative endoscopy or acid reflux assessment.