01.12.2018 | Research | Ausgabe 1/2018 Open Access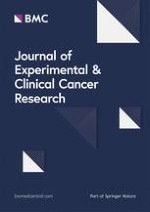 ERRα suppression enhances the cytotoxicity of the MEK inhibitor trametinib against colon cancer cells
Zeitschrift:
Autoren:

Sheng Zhou, Hongwei Xia, Huanji Xu, Qiulin Tang, Yongzhan Nie, Qi yong Gong, Feng Bi
Wichtige Hinweise
Electronic supplementary material
Sheng Zhou, Hongwei Xia and Huanji Xu contributed equally to this work.
Abstract
Background
ERRα, a constitutive transcription factor that regulates energy metabolism, plays an important role in the progression of various tumours. However, its role in cell survival and proliferation and its implication in targeted therapy in colon cancer remains elusive.
Methods
The expression of ERRα in colon cancer tissues and cell lines was detected by using western blotting and immunohistochemistry. A wound healing assay and a transwell assay were performed to examine the migration and invasion of the colon cancer cells. A cell viability assay, clonogenic assay, western blot assay and the dual-luciferase reporter assay were employed to study the interaction between trametinib (inhibitor of MEK) and EGF treatment. Flow cytometry, western blotting, quantitative reverse-transcription polymerase chain reaction and xenograft studies were used to identify whether the combination of trametinib and simvastatin had a synergistic effect.
Results
ERRα positively regulated the cell proliferation, migration and invasion of colon cancer cells, and the suppression of ERRα completely reduced the EGF treatment-induced proliferation of colon cancer cells. Further investigation showed that trametinib partially restrained the up-regulation of ERRα induced by the EGF treatment, and ERRα inhibition increased the sensitivity of colon cancer cells to trametinib. At last, we combined trametinib with simvastatin, a common clinically used drug with a new reported function of transcriptional activity inhibition of ERRα, and found that this combination produced a synergistic effect in inhibiting the proliferation and survival of colon cancer cells in vitro as well as in vivo.
Conclusions
The present data indicated that ERRα acted as an oncogene in colon cancer cells, and the combined targeting of ERRα and MEK might be a promising therapeutic strategy for colon cancer treatment.