01.12.2012 | Original investigation | Ausgabe 1/2012 Open Access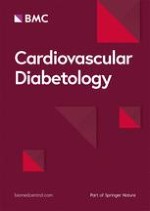 Erythropoietin attenuates cardiac dysfunction by increasing myocardial angiogenesis and inhibiting interstitial fibrosis in diabetic rats
Zeitschrift:
Autoren:

Jing Lu, Yu-yu Yao, Qi-ming Dai, Gen-shan Ma, Shu-feng Zhang, Lei Cao, Li-qun Ren, Nai-feng Liu
Wichtige Hinweise
Electronic supplementary material
The online version of this article (doi:
10.​1186/​1475-2840-11-105
) contains supplementary material, which is available to authorized users.
Competing interests
The authors declare that they have no competing interests.
Authors' contributions
NL made substantial contributions to the conception and design of this study. JL participated in designing the study, performing the experiments, and drafting the manuscript. YY and GM conceived of the study, participated in its design and coordination and helped to draft the manuscript. QD carried out the molecular genetic studies, and drafted the manuscript. SZ, LC performed the histological analyses and the acquisition of data. LR performed the statistical analysis. All authors have read and approved the final manuscript.
Abstract
Background
Recent studies revealed that erythropoietin (EPO) has tissue-protective effects in the heart by increasing vascular endothelial growth factor (VEGF) expression and attenuating myocardial fibrosis in ischemia models. In this study, we investigated the effect of EPO on ventricular remodeling and blood vessel growth in diabetic rats.
Methods
Male SD rats were randomly divided into 3 groups: control rats, streptozotocin (STZ)-induced diabetic rats, and diabetic rats treated with 1000 U/kg EPO by subcutaneous injection once per week. Twelve weeks later, echocardiography was conducted, and blood samples were collected for counting of peripheral blood endothelial progenitor cells (EPCs). Myocardial tissues were collected, quantitative real-time PCR (RT-PCR) was used to detect the mRNA expression of VEGF and EPO-receptor (EPOR), and Western blotting was used to detect the protein expression of VEGF and EPOR. VEGF, EPOR, transforming growth factor beta (TGF-β), and CD31 levels in the myocardium were determined by immunohistochemistry. To detect cardiac hypertrophy, immunohistochemistry of collagen type I, collagen type III, and Picrosirius Red staining were performed, and cardiomyocyte cross-sectional area was measured.
Results
After 12 weeks STZ injection, blood glucose increased significantly and remained consistently elevated. EPO treatment significantly improved cardiac contractility and reduced diastolic dysfunction. Rats receiving the EPO injection showed a significant increase in circulating EPCs (27.85 ± 3.43%,
P
 < 0.01) compared with diabetic untreated animals. EPO injection significantly increased capillary density as well as EPOR and VEGF expression in left ventricular myocardial tissue from diabetic rats. Moreover, EPO inhibited interstitial collagen deposition and reduced TGF-β expression.
Conclusions
Treatment with EPO protects cardiac tissue in diabetic animals by increasing VEGF and EPOR expression levels, leading to improved revascularization and the inhibition of cardiac fibrosis.