01.12.2018 | Case report | Ausgabe 1/2018 Open Access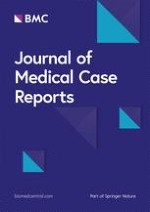 Esophageal pulmonary fistula – a rare complication of radiation therapy: a case report
Zeitschrift:
Autoren:

Laetitia Buemi, Salvatore Stefanelli, Philippe Bichard, Mickaël Luscher, Minerva Becker
Abbreviations
ERF
Esophageal respiratory fistula
PET
Positron emission tomography
RECIST
Response Evaluation Criteria in Solid Tumors
Background
Acquired esophageal respiratory fistulae (ERFs) of the esophageal tracheal or esophageal bronchial type are well-recognized complications of malignant neoplasms, infections, traumatic lesions, or surgery of the esophagus or tracheobronchial tree [
1
]. On the contrary, esophagopulmonary fistulae are very uncommon life-threatening conditions. In this report, we present a case of an esophagopulmonary fistula occurring during mediastinal radiotherapy. The diagnosis was suspected on the basis of chest computed tomography (CT) and was subsequently confirmed by means of an X-ray videofluoroscopic swallowing study (videofluoroscopy).
To the best of our knowledge, esophageal pulmonary fistulae occurring during radiotherapy for lung cancer have not been previously described. The aim of this case report is to make readers aware of this rare, life-threatening complication of treatment, which occurred during mediastinal radiotherapy and which mimicked clinically and radiologically classic pulmonary infection. We equally aim to highlight the role of videofluoroscopy as a noninvasive and cheap diagnostic tool allowing the correct diagnosis; this diagnosis can be overlooked, misinterpreted, or only suspected when using static imaging modalities such as CT. Therefore, whenever an ERF is suspected, videofluoroscopy should be performed.
Case presentation
A 72-year-old Caucasian retired man with a 100 pack-year smoking history who was a married father of three children underwent medical investigation because of progressively increasing dysphagia, acute dysphonia, and a 3-kg weight loss. His medical history revealed a left testicular seminoma treated by orchiectomy and radiotherapy 12 years previously with complete remission, as well as long-standing epilepsy, hypertension, and tendinopathy of the rotator cuff. His clinical examination revealed hoarseness and a palpable mass in the left supraclavicular fossa. The results of cardiopulmonary auscultation and a neurological examination were within the normal limits. The patient's vital signs were normal. The results of his laboratory tests, including complete blood count and liver and renal function, were within the normal limits, except for his red blood cell count, which revealed anemia with 129 g/L hemoglobin (reference range 140–180 g/L).
Local radiotherapy was initiated 6 weeks thereafter. After three sessions of 2.15-Gy radiation doses, each on the left paramediastinal region and apical segment of the left upper lobe, the patient was hospitalized because of major dyspnea. Upon admission, clinical examination revealed bilateral rhonchi, and neurological examination yielded 12 points on the Glasgow Coma Scale with a decorticate response to pain stimuli. The rest of the results of the clinical examination were within normal limits. Oxygen saturation was decreased to 70%. The patient's heart rate was 130 beats/minute, body temperature was 39.7 °C, and blood pressure was 113/75 mmHg. His laboratory test results were suggestive of major infection with leukocytosis at 19,000/L (reference range 4,000–11,000/L), and his C-reactive protein concentration was 415 mg/L (reference range 0–10 mg/L). His complete blood count revealed moderate anemia with 98 g/L hemoglobin (reference range 140–180 g/L). His liver and renal function test results were within the normal limits. Arterial blood gas analysis confirmed respiratory acidosis with a pH of 7.18 (reference range 7.35–7.45), arterial partial pressure of carbon dioxide of 8.7 kPa (reference range 4.67–6.4 kPa), and arterial partial pressure of oxygen of 8 kPa (reference range 11.07–14.4 kPa). The results of the patient's urine analysis were normal. At admission, the patient was receiving the following medications: irbesartan for arterial hypertension, clonazepam, and valproic acid for epilepsy, and ibuprofen and tizanidine for tendinopathy of the rotator cuff.
Discussion
Our patient was a 72-year-old man with squamous cell carcinoma of the lung who underwent chemotherapy followed by localized mediastinal radiotherapy. During radiotherapy, the patient developed pulmonary sepsis. Despite antibiotic treatment, his clinical situation did not improve. CT revealed pulmonary infection, and an ERF was suspected. To confirm and further clarify the diagnosis, videofluoroscopy was performed, which clearly showed an esophageal pulmonary fistula. The patient underwent endoscopic treatment with a covered self-expandable metallic stent.
This report demonstrates a rare and devastating complication occurring during radiotherapy in a patient with lung cancer. Owing to its very rare occurrence in the setting of a routine treatment protocol, the diagnosis of esophageal pulmonary fistula may be delayed, thereby leading to life-threatening complications. Because the clinical symptoms are indistinguishable from pneumonia complicating standard treatment, a more aggressive diagnostic approach, including CT and, whenever necessary, videofluoroscopy is warranted.
Our patient was undergoing localized mediastinal radiotherapy treatment when he developed severe pneumonia. Although the first CT scan did not show any fistulous tract, our suspicion was raised by the CT scan obtained after the third localized radiotherapy session. This reinforced our hypothesis of the fistula being a possible consequence of treatment.
Conclusions
An acquired esophageal pulmonary fistula is a rare but life-threatening complication of standard radiotherapy. It should be suspected whenever patients develop clinical symptoms of severe lung infection while undergoing mediastinal radiotherapy, and in particular in the event of antibiotic resistance. The diagnosis relies mainly on radiologic examinations, such as CT and videofluoroscopy. Because CT may fail to depict the fistula, videofluoroscopy should be carried out. Videofluoroscopy is a cheap and noninvasive diagnostic modality allowing the definitive and correct diagnosis. Early detection and adequate treatment are essential for patient symptom relief and survival.
Acknowledgements
Not applicable.
Funding
There was no external funding for this publication.
Availability of data and materials
Not applicable.
Ethics approval and consent to participate
Not applicable.
Consent for publication
Written informed consent was obtained from the patient's next of kin for the publication of this case report and any accompanying images. A copy of the written consent is available for review by the Editor-in-Chief of this journal.
Competing interests
The authors declare that they have no competing interests.
Publisher's Note
Springer Nature remains neutral with regard to jurisdictional claims in published maps and institutional affiliations.
Open Access
This article is distributed under the terms of the Creative Commons Attribution 4.0 International License (
http://​creativecommons.​org/​licenses/​by/​4.​0/​
), which permits unrestricted use, distribution, and reproduction in any medium, provided you give appropriate credit to the original author(s) and the source, provide a link to the Creative Commons license, and indicate if changes were made. The Creative Commons Public Domain Dedication waiver (
http://​creativecommons.​org/​publicdomain/​zero/​1.​0/​
) applies to the data made available in this article, unless otherwise stated.