01.12.2016 | Research | Ausgabe 1/2016 Open Access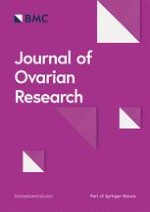 Establishment and characterization of a cell line (HCH-1) originating from a human clear cell carcinoma of the ovary
Zeitschrift:
Autoren:

Takashi Yamada, Kimiaki Hattori, Hidetoshi Satomi, Tadashi Okazaki, Hiroshi Mori, Yoshinobu Hirose
Wichtige Hinweise
Electronic supplementary material
The online version of this article (doi:
10.​1186/​s13048-016-0242-y
) contains supplementary material, which is available to authorized users.
Abstract
Background
Cell lines are very useful for both clinical and basic research. The establishment of ovarian, malignant tumor cell lines with aggressive histology is especially important. We describe the establishment and characterization of a new human clear cell carcinoma cell line of the ovary.
Results
The cell line HCH-1 was established from an ovarian tumor from a 67-year-old woman. This cell line has grown well for 230 months and has been subcultured more than 50 times. Monolayer cultured cells are polygonal in shape, showing a pavement-like arrangement and a tendency to pile up without contact inhibition. It exhibits a human karyotype with a modal chromosomal number in the hypodiploid range. The cells could be transplanted into the subcutis of SCID mice and produced tumors resembling the original tumor. HCH-1 cells produced CA125 and CA19-9, also identified immunohistochemically in both the original tumor and the heterotransplanted tumors. The cells were sensitive to actinomycin D, carboplatin, cisplatin and mitomycin C, drugs commonly used in the treatment of gynecological cancers. Variant was not found in hotspot of the 50 most commonly reported oncogenes and tumor suppressor genes. Only 12 ovarian clear cell carcinoma cell lines and their characteristics have thus far been reported in the literature. HCH-1 is the first ovarian clear cell carcinoma cell line reported in which the chromosome number is in the hypodiploid range and only the second cell line in which CA125 and CA19-9 are expressed.
Conclusions
Since it is impossible to establish a cell line from the malignant tumor of each patient, the cell line that we established, characterized and report in this paper may be very useful in basic research on ovarian cancer. We have much to learn about the pathogenesis of clear cell carcinoma and this extra line of enquiry may lead us to a better understanding of how to treat and cure this serious disease.